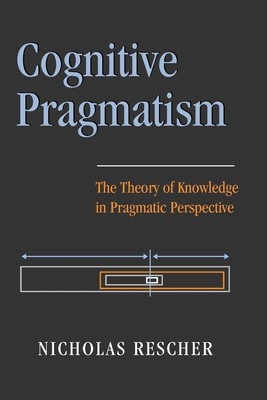 Cognitive Pragmatism
The Theory of Knowledge in Pragmatic Perspective
Hardcover

* Individual store prices may vary.
Description
Nicholas Rescher tackles the major questions of philosophical inquiry, pondering the nature of truth and existence. In the authoritative voice and calculated manner that we've come to expect from this distinguished philosopher, Rescher argues that the development of knowledge is a practice, pursued by humans because we have a need for its products. This pragmatic approach satisfies our innate urge as humans to make sense of our surroundings.
Taking his discussion down to the level of particular details, and addressing such topics as inductive validation, hypostatization fallacies, and counterfactual reasoning, Rescher abandons abstract generalities in favor of concrete specifics. For example, philosophers usually insist that to reason logically from a counterfactual, we must imagine a possible world in which the statement is fact. But Rescher argues that there's no need to attempt to accept the facts of a world outside our cognition in order to reason from them. He shows us how we can use our own natural system of prioritizing, our own understanding of the fundamental, to resolve the inconsistencies in such statements as, "If the Eiffel Tower were in Manhattan, then it would be in New York State."
 
In using dozens of real-world examples such as these, and in arguing in his characteristically succinct style, Rescher casts light on a wide variety of concrete issues in the classical theory of knowledge, and reassures us along the way that the inherent limitations on our knowledge are no cause for distress. In pragmatic theory and inquiry, we must accept that the best we can do is good enough, because we only have a certain (albeit large) set of tools and conceptualizations available to us.
A unique synthesis, this endeavor into pragmatic epistemology will be of interest to scholars and students of philosophy and cognitive science.
Praise For Cognitive Pragmatism: The Theory of Knowledge in Pragmatic Perspective…
"I do not know of any other work that is fully devoted to the relationship between the theory of knowledge and pragmatism.  Thus Rescher provides something new: a coherent picture of how classical epistemological problems can be viewed through the lens of a sophisticated, contemporary, pragmatic point of view . . . His discussions of Idealism, Realism, and Internal Realism, and Truth are superior to anything in the existing literature . . . There is no other work like it -- it is needed."
— Avrum Stroll, University of CA San Diego
University of Pittsburgh Press, 9780822941538, 264pp.
Publication Date: August 16, 2001
About the Author
Nicholas Rescher is Distinguished University Professor of Philosophy at the University of Pittsburgh and co-chairman of the Center for Philosophy of Science. A member of the American Academy of Arts and Sciences, he has served as president of the Eastern Division of the American Philosophical Association, the Leibniz Society of North America, the Charles S. Peirce Society, the American Catholic Philosophical Association, and the Metaphysical Society of America. Rescher is the author or editor of more than one hundred books, including Ignorance (On the Wider Implications of Deficient Knowledge), Philosophical Inquiries: An Introduction to Problems of Philosophy, and A Journey through Philosophy in 101 Anecdotes.
or
Not Currently Available for Direct Purchase