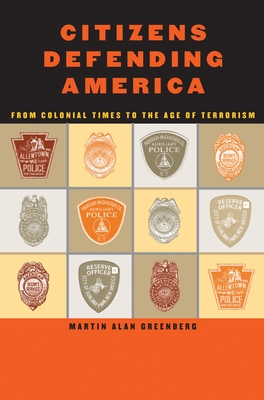 Citizens Defending America (Hardcover)
From Colonial Times to the Age of Terrorism
University of Pittsburgh Press, 9780822942641, 364pp.
Publication Date: September 1, 2005
* Individual store prices may vary.
Description
Today, concerns over homeland security have led thousands of Americans to volunteer for various citizen emergency response groups, such as the Civil Air Patrol, U.S. Coast Guard Auxiliary, Community Emergency Response Teams, fire units, etc.  In Citizens Defending America, Martin Greenberg focuses new attention on the subject of citizen volunteerism by chronicling the nature and purpose of volunteer police units—authorized organizations of a public or private nature that work at deterring crime and/or preventing terrorism for little or no monetary compensation—in America since 1620.  A number of these historical groups responsible for maintaining the civil order of the day—slave patrols, frontier posses, vice suppression societies, the American Protective League, for example—now seem controversial when viewed through a contemporary lens.  Greenberg uses the history of such groups to reflect upon the nation's past and to consider the possibilities for a safe and secure future.  He also emphasizes the role of young people in the fields of security and safety, and stresses the need for more qualified, trained volunteers to help cope with man-made and natural disasters.
About the Author
Martin Alan Greenberg is the volunteer director of research and education for the New York State Association of Auxiliary Police, Inc. With more than 50 years of experience as a teacher and practitioner of criminal justice, Greenberg has been a professor and administrator of criminal justice and law enforcement programs at numerous colleges and universities throughout the United States. He holds four graduate degrees in criminal justice and law, including a Ph.D. from John Jay College of Criminal Justice and J.D. from New York Law School. Greenberg is the past chair of the Security and Crime Prevention Section of the Academy of Criminal Justice Sciences and holds lifetime board certification in security management. The author of four books, his work has been recognized by the Northeastern Association of Criminal Justice Sciences, John Jay College of Criminal Justice, New York Law School (the American Jurisprudence Award in Trials and Appeals Practice), the New York City Police Department, the Federal Bureau of Investigation, the Virginia State Police, Ohio State University, the Academy of Criminal Justice Sciences, and the Freedoms Foundation at Valley Forge.
 
Praise For Citizens Defending America: From Colonial Times to the Age of Terrorism…
"Martin Greenberg's study of citizen policing is a superlative combination of scholarship—deeply rooted in historical background—and creative concern for modern public policy. Every policymaker and concerned citizen who would like to live in a safer America in this age of international and domestic terrorism can benefit from Greenberg's lucid, engaging, and eminently sensible analysis."
—Dennis C. Rousey, Arkansas State University
"Professor Greenberg synthesizes disparate and scattered material on volunteer police into a historically cogent framework. This book is a must read for serious students and scholars of policing." 
—Phillip C. H. Shon, Indiana State University
"Scholarly and well written . . . highly commendable contribution to the policing literature on a somewhat controversial but significant, and possibly understudied, dimension of policing."
--D.O. Fredrichs, Choice, March 2006
or
Not Currently Available for Direct Purchase