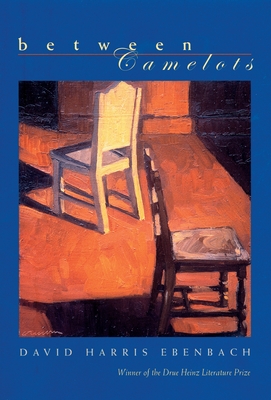 Between Camelots (Pitt Drue Heinz Lit Prize) (Hardcover)
University of Pittsburgh Press, 9780822942689, 168pp.
Publication Date: October 30, 2005
* Individual store prices may vary.
Description
Winner of the 2005 Drue Heinz Literature Prize
Between Camelots is about the struggle to forge relationships and the spaces that are left when that effort falls short.  In the title story, a man at a backyard barbecue waits for a blind date who never shows up.  He meets a stranger who advises him to give up the fight; to walk away from intimacy altogether and stop getting hurt. The wisdom—or foolhardiness—of that approach is at the heart of each of these stories.  In "I'll Be Home," a young man who has converted to Judaism goes home for Christmas in Miami, and finds that his desire to connect to his parents conflicts with his need to move on. "The Movements of the Body" introduces us to a woman who believes that she can control the disintegration of her life through a carefully measured balance of whiskey and mouthwash. These are stories about loss and fear, but also about the courage that drives us all to continue to reach out to the people around us.
About the Author
David Harris Ebenbach's short fiction has been published in numerous literary magazines including Denver Quarterly, Beloit Fiction Journal, and Crazyhorse. His poetry has appeared in Phoebe, Stickman Review, and Arbutus, among other publications..
Praise For Between Camelots (Pitt Drue Heinz Lit Prize)…
"These stories of searching young Americans are intimate and sharply detailed, sometimes hopeful, often sad, with just a taste of the strange. Between Camelots is about the scars of first losses, and the need to carry on. David Harris Ebenbach is always in full command, leading the reader moment-by-moment through his people's dis- and missed connections, ultimately leaving us alone with them at the quiet end of the night."
—Stewart O'Nan
"In Between Camelots, David Ebenbach fearlessly treads onto the terrain of American loneliness with clear-eyed precision and perfect pitch. Whether they're about one-night stands or newly shattered hearts, struggling young marriages or two gay men simply trying to connect, these are stories that, above all, tell the truth. They are rendered with an honesty and compassion that can make you sit up and gasp."
—Joan Leegant, author of An Hour in Paradise
"In these stories, David Harris Ebenbach creates a world so carefully observed and nuanced that each moment seems capable of changing everything."
—Suzanne Greenberg, author of Speed-Walk and Other Stories
or
Not Currently Available for Direct Purchase