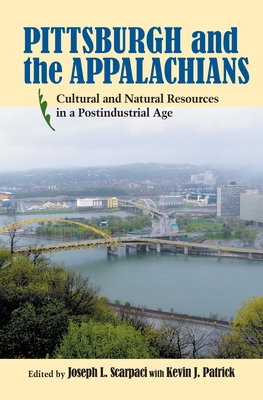 Pittsburgh and the Appalachians (Hardcover)
Cultural and Natural Resources in a Postindustrial Age
University of Pittsburgh Press, 9780822942825, 280pp.
Publication Date: June 30, 2006
* Individual store prices may vary.
Description
Few American cities reflect the challenges and promise of a twenty-first-century economy better than Pittsburgh and its surrounding region. Once a titan of the industrial age, Pittsburgh flourished from the benefits of its waterways, central location, and natural resources-bituminous coal to fire steel furnaces; salt and sand for glass making; gas, oil, and just enough ore to spark an early iron industry. Today, like many cities located in the manufacturing triangle that stretches from Boston to Duluth to St. Louis, Pittsburgh has made the transition to a service-based economy.
Pittsburgh and the Appalachians presents a collection of eighteen essays that explore the advantages and disadvantages that Pittsburgh and its surrounding region face in the new global economy, from the perspectives of technology, natural resources, workforce, and geography.  It offers an extensive examination of the processes and factors that have transformed much of industrial America during the past half-century, and shows how other cities can learn from the steps Pittsburgh has taken through redevelopment, green space acquisition, air and water quality improvement, cultural revival, and public-private partnerships to create a more livable, economically viable region for future populations.

About the Author
Joseph L. Scarpaci is professor of geography at Virginia Polytechnic Institute and State University and author of Barrios and Plazas: Heritage Tourism and Globalization in the Spanish Amiercan Centro Histórico.
Kevin J. Patrick is associate professor of geography and planning at Indiana University of Pennsylvania.
Praise For Pittsburgh and the Appalachians: Cultural and Natural Resources in a Postindustrial Age…
" An excellent summary and analysis of issues that continue to shape the landscape of Pittsburgh and its hinterland. A concise, readable book."
--Journal of Regional Science

x
<I>"Pittsburgh and the Appalachians</I> profiles the city and its hinterland to assess what they have, and what they will need, to achieve a fresh and vigorous future. Once gateway to the West, then keystone city for American heavy industry, Pittsburgh, with its region, became a cruel postindustrial economic and environmental joke. Yet when viewed in contemporary perspective, unique urban and regional characteristics of people and place, from creative forces at the core to recreational resources across the region, provide energy, opportunity, and possibility. Scholarly and readable, this book captures Pittsburgh's promise and serves as a model for how geographers can look at and think about effects of urban, metropolitan, and regional restructuring and reshuffling in the twenty-first century."
--Joseph S. Wood, University of Southern Maine
"This volume will be of interest to scholars and a wider readesrhip interested in the region and/or in the challenges of the shifting economic and social realities of the eraly 21st century. Recommended."
--Choice
or
Not Currently Available for Direct Purchase