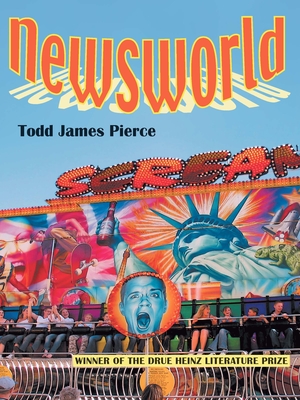 Newsworld (Pitt Drue Heinz Lit Prize)
Hardcover

* Individual store prices may vary.
Description
News is "one of the few things that connects us as a nation" observes the protagonist in the title story of Newsworld, a new collection by Todd James Pierce that explores America's obsession with news and entertainment culture. The characters in "Newsworld" seek to design realistic theme park attractions, such "OJ's Bronco: The Ride" and "Seige at Waco," that allow park guests to experience the complexities of contemporary news events for themselves. In the story "Columbine: The Musical," high school students stage a musical written as a means of discussing school violence, while their vice principal wrangles a 10 percent discount on a school security system in exchange for corporate sponsorship of the play. In "Wrestling Al Gore," a national wrestling federation uses costumed wrestlers to cast the Gore/Bush election recount into the ring. In an ironic twist, fans become sympathetic to the underdog Gore, champion his cause, and ultimately reflect on the fate of the real politician. In "The Yoshi Compound: A Story of Post-Waco Texas," the followers of the Dalai Yoshi amass weapons and riot gear in hopes of attracting media attention in order to spread their message of love and world peace.
The characters in Newsworld, like many Americans, are engulfed in a life-imitating-art phenomenon caused by the hyperreality presented in the media, and they struggle with this overwhelming influence trying to understand whether their own lives fall within or outside its domain.
Praise For Newsworld (Pitt Drue Heinz Lit Prize)…
"'Newsworld' examines, in 10 adroit stories, our codependency with the news industry. . . . Unsettling fiction . . . an abundance of sympathy. . . . While Pierce's comedic realism unfolds in the background, his heroes ache in their offices and bedrooms--so desperate to communicate through press releases and letters to the editor that they've forgotten how to whisper into a lover's ear."
--New York Times Book Review

"Lordy, what a splendid collection of stories Newsworld is, not least for Pierce's wit about and passion for our analogues, those folks, courtesy of celebrity or notoriety, we root for and against on CNN and Access Hollywood, the folks for whom Disney World is the real world. Pierce understands that the news, like politics, is always local and always personal, and as a fiction writer he reminds us that we, but for time and chance, are OJ or Dylan Klebold, that ours are times both fetching and frightening, and that the only way to understand ourselves is in a tale told tight."
—Lee K. Abbott


"Newsworld is ambitious and exhilarating, an original collection awake to the larger world."
--Joan Didion
University of Pittsburgh Press, 9780822942993, 216pp.
Publication Date: September 1, 2006
About the Author
Todd James Pierce is assistant professor of English at California Polytechnic University in San Luis Obispo. He is the author of the novel The Australia Stories, and coauthor of the textbook Behind the Short Story: From First to Final Draft.
or
Not Currently Available for Direct Purchase