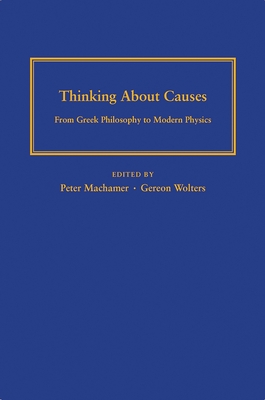 Thinking about Causes (Hardcover)
From Greek Philosophy to Modern Physics (Pitt Konstanz Phil Hist Scienc)
University of Pittsburgh Press, 9780822943099, 384pp.
Publication Date: May 10, 2007
* Individual store prices may vary.
Description
Emerging as a hot topic in the mid-twentieth century, causality is one of the most frequently discussed issues in contemporary philosophy. Causality has been a central concept in philosophy as well as in the sciences, especially the natural sciences, dating back to its beginning in Greek thought. David Hume famously claimed that causality is the cement of the universe. In general terms, it links eventualities, predicts the consequences of action, and is the cognitive basis for the acquisition and the use of categories and concepts in the child. Indeed, how could one answer why-questions, around which early rational thought begins to revolve, without hitting on the relationships between reason and consequence, cause and effect, or without drawing these distinctions? But a comprehensive definition of causality has been notoriously hard to provide, and virtually every aspect of causation has been subject to much debate and analysis.
Thinking about Causes brings together top philosophers from the United States and Europe to focus on causality as a major force in philosophical and scientific thought. Topics addressed include: ancient Stoicism and moral philosophy; the case of sacramental causality; traditional causal concepts in Descartes; Kant on transcendental laws; the influence of J. S. Mill's politics on his concept of causation; plurality in causality; causality in modern physics; causality in economics; and the concept of free will.
Taken together, the essays in this collection provide the best current thinking about causality, especially as it relates to the philosophy of science.
About the Author
Peter Machamer is professor of history and philosophy of science, University of Pittsburgh. He is coeditor, with Gereon Wolters, of Science, Values, and Objectivity, Theory and Method in the Neurosciences, and other books.

Gereon Wolters is professor of philosophy and deputy director of the Center for Philosophy of Science at the University of Konstanz. He is coeditor of Concepts, Theories, and Rationality in the Biological Sciences and Logic, Language, and the Structure of Scientific Theories, among other books.
or
Not Currently Available for Direct Purchase