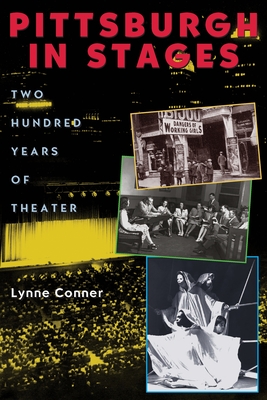 Pittsburgh in Stages (Hardcover)
Two Hundred Years of Theater
University of Pittsburgh Press, 9780822943303, 320pp.
Publication Date: June 4, 2007
* Individual store prices may vary.
Description
Pittsburgh has a rich and diverse theatrical tradition, from early frontier performances by officers stationed at Fort Pitt through experimental theater at the end of the twentieth century. Pittsburgh in Stages offers the first comprehensive history of theater in Pittsburgh, placing it within the context of cultural development in the city and the history of theater nationally.
By the time the first permanent theater was built in 1812, Pittsburgh had already established itself as a serious patron of the theatrical arts. The city soon hosted New York and London-based traveling companies, and gained a national reputation as a proving ground for touring productions. By the early twentieth century, numerous theaters hosted 'popular-priced' productions of vaudeville and burlesque, and theater was brought to the masses. Soon after, Pittsburgh witnessed the emergence of myriad community-based theater groups and the formation of the Federation of Non-Commercial Theatres and the New Theater League, guilds designed to share resources among community producers. The rise of local theater was also instrumental to the growth of African American theatrical groups. Though victims of segregation, their art flourished, and was only later recognized and blended into Pittsburgh's theatrical melting pot.
Pittsburgh in Stages relates the significant influence and interpretation of urban socioeconomic trends in the theatrical arts and the role of the theater as an agent of social change. Dividing Pittsburgh's theatrical history into distinct eras, Lynne Conner details the defining movements of each and analyzes how public tastes evolved over time. She offers a fascinating study of regional theatrical development and underscores the substantial contribution of regional theater in the history of American theatrical arts.
About the Author
Lynne Conner is associate professor of theater arts at the University of Pittsburgh. She is the author of Spreading the Gospel of Modern Dance: Newspaper Dance Criticism in the United States, 1850-1935 and coauthor of In the Garden of Live Flowers. Her arts commentary and performance reviews have appeared in a wide variety of journals, newspapers, documentaries, and radio broadcasts.
Praise For Pittsburgh in Stages: Two Hundred Years of Theater…
"For readers seeking a glimpse of the inner workings of theater personnel and cultural brokers in Pittsburgh, Pennsylvania, 'Pittsburgh in Stages' is a good start. For those who want  a stimulating synopsis within an accurate social and political setting, this is it."
—Pennsylvania Magazine of History & Biography
"Enlightening . . . a definitive history . . . a superb job of describing the evolution of Pittsburgh theater."
--Pittsburgh Post-Gazette
"A unique work of historical scholarship. Conner's finest achievement is how in constructing this 'social history' she so vividly demonstrates the deep ties of Pittsburgh theatre to its ethnic and religious communities in a manner that the different cultures of the city's diverse neighborhoods come alive in the reader's mind. . . Adorned with excellent illustrations, maps and photos."
—New England Theatre Journal
"Ultimately, in treating stage productions and their reception as a barometer of civic development and community life, ['Pittsburgh in Stages'] reveals as much about the social and economic oganization of Pittsburgh as it does about theatre history."
—Theatre Journal
or
Not Currently Available for Direct Purchase