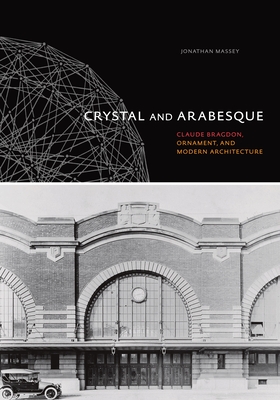 Crystal and Arabesque
Claude Bragdon, Ornament, and Modern Architecture
Hardcover

* Individual store prices may vary.
Description
From the 1890s to the 1930s, Claude Bragdon enjoyed an international reputation as an architect, designer, and critic working in the progressive tradition associated with Louis Sullivan, Frank Lloyd Wright, and the Prairie School. In 1915 Bragdon created projective ornament, a system of geometric patterns designed to serve as a universal form-language integrating not only architecture, art, and design, but also a society divided by differences of class, gender, religion, culture, and national origin. Spreading across the surfaces of buildings, posters, books, and the settings Bragdon designed for massive community singing festivals, projective ornament came to symbolize the progressive potential of modernity for thousands of Americans.
Bragdon disappeared from memory when mid-century histories promoted a narrow view of modern architecture that emphasized functional planning, industrial building technique, continuous space, and the suppression of ornament. But his work left an ongoing legacy when younger architects such as Buckminster Fuller found new ways of using geometric pattern to promote architectural and social integration. Now that architects and designers are once again generating innovative work based on geometry, ornament, and pattern, "Crystal and Arabesque "draws on a rich trove of previously unpublished work to show how American modernists committed to social reform used ornament in new ways to engage the media and audiences of mass society.
Praise For Crystal and Arabesque: Claude Bragdon, Ornament, and Modern Architecture…
"Bragdon is posthumously fortunate to have Massey write his intellectual, architectural and aspirational biography. The first book-length treatment of Bragdon and his world is as clear, complex and compelling as one of Bragdon's own terreracts, or four-dimensional cubes."
—Design Observer  


"Few biographies of architects achieve such balance between buildings and ideas, events and concepts as this one. Crystal and Arabesque provides an important study of an endlessly fascinating albeit largely forgotten figure of architectural modernism. Because of Bragdon's participation in social, political and scientific discourses, this book will appeal to a wide audience, including readers interested in biography, American studies, design history, theatre and performance studies, and the history of science."
—Spyros Papapetros, Princeton University

"In this beautifully argued book based on a rich exploration of original material, Massey recognizes in a little-known turn-of-the century American architect a body of work that challenged the core of modern architecture with its normative emphasis on rationalism, its prohibitions against ornament, and its narrowly instrumental view of technology.  Massey's combination of interdisciplinary breadth and substantial knowledge of architecture guarantees that his excellent book will make a significant contribution to architectural, art, and cultural history."
—Sylvia Lavin, University of California, Los Angeles
"A definitive biography coupled with an interpretative and aesthetic analysis."
—New York-Pennsylvania Collector
University of Pittsburgh Press, 9780822943624, 336pp.
Publication Date: March 1, 2009
About the Author
Jonathan Massey is associate professor in the Syracuse University School of Architecture.
or
Not Currently Available for Direct Purchase