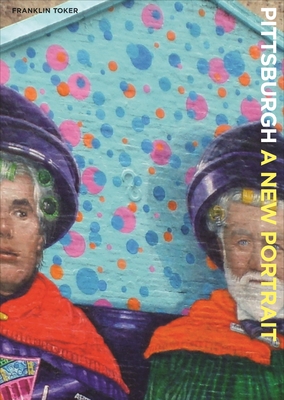 Pittsburgh
A New Portrait
Hardcover

* Individual store prices may vary.
Other Editions of This Title:
Paperback (9/30/1989)
Description
From its founding in 1758, Pittsburgh has experienced several epic transformations.  It began its existence as a fortress, on a site originally selected by George Washington.  A hundred years later, and well into our own time, no other American city was as intensively industrialized, only to be later consigned to "rustbelt" status.  Remade as a thriving twenty-first-century city and an international center for science, medicine, biotechnology, and financial services, Pittsburgh is now routinely acclaimed as one of the most promising and livable of America's cities.  Franklin Toker shows us why.

Toker highlights this remarkable story of urban reinvention by focusing on what makes Pittsburgh so resilient and appealing - its strong neighborhoods and their surprisingly rich architectural history.   The many unique, lively urban communities that make up Pittsburgh are a treasure trove of every imaginable style of structure, from Victorian to Bauhaus, Gothic to Art Deco, and from Industrial to Green.  These ordinary homes expressed the aspirations of people who came from around the world to settle in Pittsburgh, while they built the city itself into an economic powerhouse.  With the wealth generated by this everyday work, local captains of industry could build their own monumental additions to Pittsburgh's urban landscape, including two of America's greatest buildings: H. H. Richardson's Allegheny Courthouse and Frank Lloyd Wright's Fallingwater. 

With accessible prose, Toker examines Pittsburgh in its historical context (from Indian settlement to postmodern city), in its regional setting (from the playgrounds of the Laurel Highlands to the hard-working mill towns dotting the landscape), and from the street level (leading the reader on a personal tour through every neighborhood).  Lavishly illustrated with photos and maps, Pittsburgh: A New Portrait reveals the true colors of a truly great American city. 

Praise For Pittsburgh: A New Portrait…
"The book is ambitious and lavish, with vivid photographs and helpful maps.  From the glaciers that built the town and the epidemics and fires that reshaped it, to the renaissances that renewed it and the indomitable spirit that sustains it, Pittsburgh is a great American city—the 'indispensable American city,' in the words of native son David McCullough. Now it possesses the great architectural guide that every great American city deserves—and few possess."
—Wall Street Journal
"[Toker] intricately showcases the city's architecture, from an iconic Chrysler dealership built in 1934 on Baum Boulevard to the boyhood home of playwright August Wilson that sits in the historically black neighborhood knowsn as The Hill. 'I got as close to the heartbeats of the neighborhoods as I could,' Toker said."
—Associated Press


"Combines beautiful photographs with concise historical essays."
—The New Yorker
 "A neighborhood-by-neighborhood, and in some cases building-by-building, analysis of the city, an architectural and social history that reads as both love letter and critique. . . .An incredibly agile writer, Toker moves easily from biography to aesthetics to history, all the while peppering the text with clever turns of phrase that lead to plenty of chuckles and even a few laugh-out-loud moments."
—Pittsburgh Post-Gazette
"Exquisitely and eloquently announces the birth of postindustrial Pittsburgh . . . Serves [as] a scripture, an authoritative body of knowledge about the city focused mainly on the city's architectural or built environment. It is a beautifully crafted paean to Pittsburgh as someplace special."
—Pennsylvania Magazine of History and Biography
"Lovingly prepared and tastefully presented . . . praiseworthy, celebratory and revelatory."
—Pittsburgh Quarterly
"[Important] to scholars for insight into the process of community and regional regeneration in the postindustrial era. . . . [An] interweaving of architectural description, engaged storytelling, and passionate advocacy for adaptive reuse . . . accessible and innovative . . . beautiful photography is seamlessly meshed with engaging prose."
—Pennsylvania History
University of Pittsburgh Press, 9780822943716, 528pp.
Publication Date: September 20, 2009
About the Author
Franklin Toker is professor of the history of art and architecture at the University of Pittsburgh, and past president of the Society of Architectural Historians.  He is the author of numerous books, including the definitive work on Frank Lloyd Wright's masterpiece, Fallingwater Rising, and Buildings of Pittsburgh in the prestigious Buildings of the United States series.
or
Not Currently Available for Direct Purchase