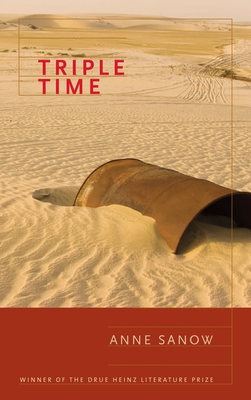 Triple Time (Drue Heinz Literature Prize)
Hardcover

* Individual store prices may vary.
Other Editions of This Title:
Paperback (10/16/2014)
Description
For Jill, a young American living in Saudi Arabia in the 1980s, life is in "a holding pattern" of long days in a restrictive place-"sandlocked nowhere," as another expat calls it. Others don't know how to leave, and try to adopt the country as their own. And to those who were born there, the changes seem to come at warp speed: Thurayya, the daughter of a Bedouin chief, later finds herself living in a Riyadh high-rise where, she says, there are "worlds wound together with years." The characters in the linked stories in Triple Time are living an uneasy mesh of two divergent cultures, in a place where tradition and progress are continually in flux. These are tales of confliction-of old and new, rich and poor, sexual repression and personal freedom. We experience a barren yet strangely beautiful landscape jolted by sleek glass apartment towers and opulent fountains. On the fringes of urbanity, Bedouins traverse the desert in search of the next watering hole. Beneath a surface of cultural upheaval, the stories hold deeper, more personal meanings. They tell of yearnings-for a time lost, for a homeland, for belonging, and for love. Anne Sanow reveals much about the culture, psyche, and essence of life in modern Saudi Arabia, where Saudis struggle to keep their traditions and foreigners muddle through in search of a quick buck or a last chance at making a life for themselves in a world that is quickly running out of hiding places.
Praise For Triple Time (Drue Heinz Literature Prize)…
"This is the kind of manuscript that reminds me why people want to become editors and agents, and why writers are willing to judge contests: you hope that among the bad manuscripts and the good ones and the very good ones there will be one that is great. This book is great."
—Ann Patchett

"Sanow brings Saudi Arabia to life in seven windswept tales. Each character grapples with the strictures of Saudi society and the rapid changes affecting the nation, both from the outside and from within. A fascinaing glimpse into a world with which many Westerners are unfamiliar."
—Booklist
 

"[The stories] detail a sense of isolation through a range of intriguing characters."
—Publishers Weekly

"Fascinating . . . The temptation here is to label this an exotic and esoteric book, but it is the iconic characters that provide the fulcrum for these seven linked stories. Memorable books such as this reinforce the old saw that people are always more interesting than places."
—ForeWord Magazine


"Impressive. A complexly rendered fresco that delves into a country undergoing explosive change tempered with expat Americans who have been there so long there may be no going back to anything else. . . The stories stand alone as a masterful telling. But there is a thread only revealed toward the end which makes them all the more powerful."
—Provincetown Banner
"Does everything that a work of fiction set in a much-mystified country should: it provides us with an insider's view of the many sides of the culture and forces us to query our assumptions about it, all the while presenting us with wonderful stories and characters who are the antithesis of stereotypes--vivid, fully formed, and flawed, yet filled with hope and yearning."
—Women's Review of Books
University of Pittsburgh Press, 9780822943808, 153pp.
Publication Date: August 1, 2009
About the Author
Anne Sanow's work has been published in Kenyon Review, Dossier, the Chicago Tribune, and elsewhere. Her awards include the PEN New England Award for Fiction and the Nelson Algren Award for Short Fiction, and fellowships from the Fine Arts Work Center in Provincetown and the National Endowment for the Arts.
or
Not Currently Available for Direct Purchase