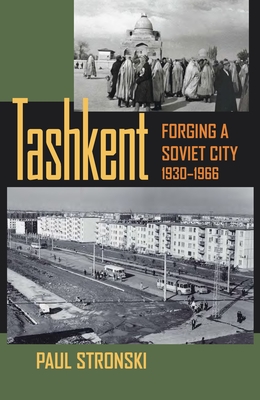 Tashkent (Hardcover)
Forging a Soviet City, 1930–1966 (Central Eurasia in Context)
University of Pittsburgh Press, 9780822943945, 368pp.
Publication Date: September 19, 2010
* Individual store prices may vary.
Description
Paul Stronski tells the fascinating story of Tashkent, an ethnically diverse, primarily Muslim city that became the prototype for the Soviet-era reimagining of urban centers in Central Asia. Based on extensive research in Russian and Uzbek archives, Stronski shows us how Soviet officials, planners, and architects strived to integrate local ethnic traditions and socialist ideology into a newly constructed urban space and propaganda showcase.

The Soviets planned to transform Tashkent from a "feudal city" of the tsarist era into a "flourishing garden," replete with fountains, a lakeside resort, modern roadways, schools, hospitals, apartment buildings, and of course, factories. The city was intended to be a shining example to the world of the successful assimilation of a distinctly non-Russian city and its citizens through the catalyst of socialism. As Stronski reveals, the physical building of this Soviet city was not an end in itself, but rather a means to change the people and their society.

    Stronski analyzes how the local population of Tashkent reacted to, resisted, and eventually acquiesced to the city's socialist transformation. He records their experiences of the Great Terror, World War II, Stalin's death, and the developments of the Krushchev and Brezhnev eras up until the earthquake of 1966, which leveled large parts of the city. Stronski finds that the Soviets established a legitimacy that transformed Tashkent and its people into one of the more stalwart supporters of the regime through years of political and cultural changes and finally during the upheavals of glasnost.  
About the Author
Paul Stronski is an independent scholar and lecturer who has taught at Stanford, George Mason, and George Washington universities.
Praise For Tashkent: Forging a Soviet City, 1930–1966 (Central Eurasia in Context)…
"Stronski's groundbreaking research allows a vivid portrayal of how leaders imagined and transformed one of the Soviet Union's most important cities, which was designed to be a model for a postcolonial world."
—Jeff Sahadeo, Carleton University, Canada
"This fascinating study details how Soviet planners used cities as blunt instruments to eliminate the landscapes of imperial Russia and reshape, modernize, and even homogenize traditional societies across the USSR. Stronski illuminates the dramatic and often brutal ways in which Tashkent was conceived and constructed as the population, communications, and cultural hub for a transformed Central Asia."
—Fiona Hill, The Brookings Institution
"A superb piece of research that brings together urban history, social history, and debates about modernity and colonialism in the Soviet periphery. Paul Stronski traces the multifaceted transformation of Tashkent from the 1930s to the 1960s, showing the impact of Soviet power and world war on the city's physical and social environment. This is an important work on a region and period that have received far too little scholarly attention."
—Adrienne Edgar, University of California, Santa Barbara
"One of this book's most salient features is Stronski's use of archival sources located at the federal, republic, and city levels, as well as his ability to negotiate documents in both Russian and Uzbek. An important addition to understanding how Soviet power was implemented and resisted in an urban center. Highly recommended."
—Choice
"Enjoyable, smoothly written, wide in scope, and full of fascinating points; it should be recommended to historians of the USSR and their students, and can be used as a resource for research and teaching alike."
—Russian Review
"A solid account based on a large number of materials from Moscow as well as from several Uzbek archives. These documents include not only urban development plans but also private letters intercepted during World War II about hunger and disease, despair and death in makeshift shelters or wet factory basements."
—Slavic Review
or
Not Currently Available for Direct Purchase