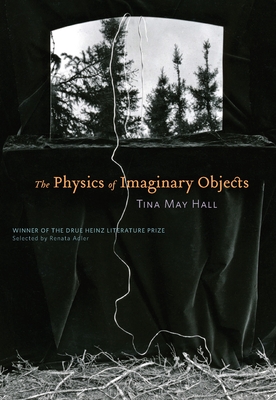 The Physics of Imaginary Objects (Pitt Drue Heinz Lit Prize)
Hardcover

* Individual store prices may vary.
Other Editions of This Title:
Paperback (9/28/2010)
Description
Winner of the 2010 Drue Heinz Literature Prize
The Physics of Imaginary Objects,  in fifteen stories and a novella, offers a very different kind of short fiction, blending story with verse to evoke fantasy, allegory, metaphor, love, body, mind, and nearly every sensory perception. Weaving in and out of the space that connects life and death in mysterious ways, these texts use carefully honed language that suggests a newfound spirituality.
Praise For The Physics of Imaginary Objects (Pitt Drue Heinz Lit Prize)…
"This enigmatic collection comprises curious musings on the convergence of the natural and human worlds. [Delivers] atmospheric and dreamlike stories sure to fascinate."
—Publishers Weekly
"Hall's pungent writing breaks down walls between poetry and prose, narrator and reader, humor and horror. These stories, a daunting cross between Rikki Ducornet and early Jayne Anne Phillips, reveal the author's fascination with life and death, the confusion of hunger with other needs, and the bureaucratic tyranny of forms: sonnets and novellas, chapters and verses."
—Los Angeles Times
"It looks like prose to the eye, but it's memorable for the beauty and rhythm of the language, and it longs to be read aloud. . . Some stories in the collection have a traditional structure, but their magic is still in the poetry."
"[Hall] marries plot to the beauty of her prose--but her priorities are lyricism first, narrative second. She's concerned with relationships, the hidden lives of objects, and the death of beauty. She's concerned with those tiny, everyday moments that reverberate throughout our lives, a beacon of otherworldliness in an ordinary world."
—The Rumpus
"One of the most breathtaking books you will read this year. The stories are dense and elegant and oftentimes strange but always engaging.Hall is a master sentence crafter. She put words together in really complex, beautiful ways.". . . As I read each story I was left with a profound sense of awe for the intelligence and grace with which this collection was written." 
—HTMLGIANT Reviews
"Occasionally you stumble across a piece of literary fiction so eloquent in its style, honest in its material, and direct in its approach that it resonates with you days, weeks, years after you read it. 'The Physics of Imaginary Objects' is one of these intelligent, enlightening, and brazen books that you'll want to place on your shelf at eye-level so you will remember to keep picking it up. Hall's poetic style and articulate precision give this book a revolutionary quality. It nudges you along with an air of solemn importance and modest wisdom. Expertly composed and awesomely beautiful, Hall's hybrid of poetry and prose is neither sparse nor excessive, sentimental nor detached, diffident nor ostentatious."
—Newpages.com
University of Pittsburgh Press, 9780822943983, 160pp.
Publication Date: August 13, 2010
About the Author
Tina May Hall is assistant professor of English at Hamilton College in Clinton, New York. Her stories have appeared in 3rd Bed, Black Warrior Review, Quarterly West,  minnesota review, descant, the Collagist, and Water-Stone Review, among others. She is the author of the chapbook All the Day's Sad Stories.
or
Not Currently Available for Direct Purchase