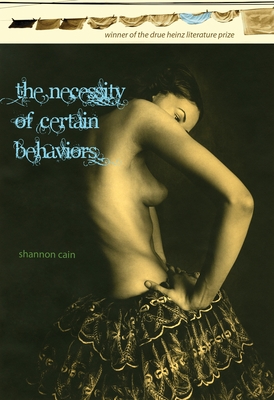 The Necessity of Certain Behaviors (Pitt Drue Heinz Lit Prize)
Hardcover

* Individual store prices may vary.
Description
Winner of the 2011 Drue Heinz Literature Prize

Shannon Cain's stories chart the treacherous territory of the illicit. They expose the absurdity of our rituals, our definitions of sexuality, and above all, our expectations of happiness and self-fulfillment.
      Cain's protagonists are destined to suffer—and sometimes enjoy—the consequences of their own restless discontent.  In the title story, Lisa, a city dweller, is dissatisfied with her life and relationships. Her attempt at self-rejuvenation takes her on a hiking excursion through a foreign land. Lisa discovers a remote village where the ritualized and generous bisexual love of its inhabitants entrances her. She begins to abandon thoughts of home.
      In "Cultivation," Frances, a divorced mother strapped with massive credit card debt, has become an expert at growing pot. When she packs her three children and twelve pounds of homegrown into the minivan and travels cross-country to sell the stash, their journey becomes one of anguish, revelation, and ultimately transformation. "Cultivation," like many of the stories in The Necessity of Certain Behaviors, follows a trail of broken relationships and the unfulfilled promises of modern American life.
      Told in precise, evocative prose, these memorable stories illuminate the human condition from a compelling, funny, and entirely original perspective.
Praise For The Necessity of Certain Behaviors (Pitt Drue Heinz Lit Prize)…
"Cain's debut collection of nine short stories adroitly navigates the tenuous waters of human relationships. Her quietly august characters struggle to come to terms with the unpredictable nuance of tradition, sexuality, and happiness. Cain's confident and steady prose balances out the emotional tumult of stories just bizarre enough to be believable ... Utilizing painful misunderstandings to maximum effect, Cain's characters arrive at epiphanies without relying on convenient tricks and plot devices. Dark moments that give way to enlightened reflection reveal characters whose selfishness is deftly managed. Cain highlights their humanity rather than calling it into question. She is especially adept at drawing forth vulnerabilities from her female protagonists. This is a work of finely calibrated emotional registers that will set the bar high for Cain's next book."
—Publishers Weekly
"In nine short stories, Cain takes fringy characters and makes them lovable. From the bisexual dog walker simultaneously courting a man and a woman to the mayor's wife caught masturbating at the YMCA, each tale is served up with comedy and pizzazz."
—Ms. Magazine
"The power in this sparkling collection becomes more apparent as one reads: you notice right away that the stories are funny and surprising; it takes a while to see how heartbreaking they can be. Some characters in The Necessity of Certain Behaviors are joyfully bisexual—and finally, perhaps, alone and lonely. Others defy convention differently. Shannon Cain tells their stories with wit, insight, elegant plotting, and compassion. I loved reading about these vibrant, lovable, irrepressible women."
—Alice Mattison
"Shannon Cain's stories make people who are usually thought of as being marginal seem central to life in America now. No one is settled or certain. Her moms don't disappear into the role, her lovers flounder even as they are sure they're sexually open-minded, the jobs she portrays are often off the grid and shaky. Yet these are serious lives, and as such, often made me laugh. I put check marks by line after line, marking well-written turns of phrase and sharp insights. This is a really wonderful collection."
—Alice Elliott Dark
"Shannon Cain . . . has created textured moments of beauty, stark landscapes and a stunning collection of uniquely American lives."
—Sycamore Review
"A wonderfully different and satisfying short story collection, each story offering up more on subsequent reads. Cain approaches familiar situations—love, loss, shame—from unfamiliar angles, in unique ways, and her stories leave a mark on the reader. Congratulations to the Drue Heinz Literature Prize judges, and thank you, for bringing us not only Shannon Cain's stories, but for every book you have brought to publication that may otherwise not have been born."
—The Short Review
University of Pittsburgh Press, 9780822944102, 160pp.
Publication Date: September 23, 2011
About the Author
Shannon Cain is coeditor of Powder: Writing by Women in the Ranks, from Vietnam to Iraq. She is the recipient of a Pushcart Prize, the O. Henry Prize, and a fellowship from the National Endowment for the Arts. Her work has appeared, or is forthcoming, in Tin House, Colorado Review, New England Review, American Short Fiction, and Southword: New Writing From Ireland. She has taught fiction writing at the University of Arizona and Arizona State University and is the 2011 Picador Guest Professor in Literature at the University of Leipzig.
or
Not Currently Available for Direct Purchase