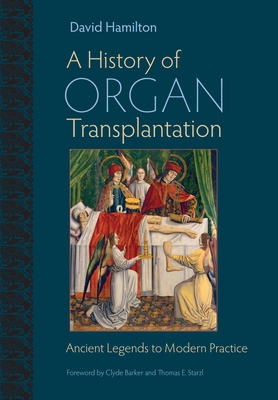 A History of Organ Transplantation
Ancient Legends to Modern Practice
Hardcover

* Individual store prices may vary.
Description
Foreword by Clyde Barker and Thomas E. Starzl
A History of Organ Transplantation is a comprehensive and ambitious exploration of transplant surgery—which, surprisingly, is one of the longest continuous medical endeavors in history. Moreover, no other medical enterprise has had so many multiple interactions with other fields, including biology, ethics, law, government, and technology. Exploring the medical, scientific, and surgical events that led to modern transplant techniques, Hamilton argues that progress in successful transplantation required a unique combination of multiple methods, bold surgical empiricism, and major immunological insights in order for surgeons to develop an understanding of the body's most complex and mysterious mechanisms.  Surgical progress was nonlinear, sometimes reverting and sometimes significantly advancing through luck, serendipity, or helpful accidents of nature.
      The first book of its kind, A History of Organ Transplantation examines the evolution of surgical tissue replacement from classical times to the medieval period to the present day. This well-executed volume will be useful to undergraduates, graduate students, scholars, surgeons, and the general public. Both Western and non-Western experiences as well as folk practices are included. 
Praise For A History of Organ Transplantation: Ancient Legends to Modern Practice…
"This beautiful history . . . gives a sense of the vivacity of scientific experience, its errors and insights, and the way in which cultural traits, individual lives, and technical knowledge combine to create a field of clinical medicine. . . . Those who are willing to read David Hamilton will find a well-written and exciting history—physiology and medicine, and the lives of those who pursue them, will seem more fascinating, and science more wild and willful."
—Times Literary Supplement (TLS)
"A comprehensive, authoritative history of a transformative field of medicine. Well crafted and global in scope. . . . scholars and historians of medicine will find Hamilton a thorough guide to a complex subject."
—Library Journal
"Written for the average reader without ignoring scientific detail."
—Pittsburgh Post-Gazette
"David Hamilton has written a history of transplantation that is unmatched in its scope, perceptiveness and readability. The masterly account he has crafted comes at an appropriate time, since organ transplantation has now become widely accepted, as the best therapy for many otherwise fatal diseases. The surgeon-author of this book has watched and participated in many of the events as the field evolved over the last half century. Having looked back as an informed insider, he has added his historian's detachment and insight to the narrative. . . . Hamilton is clear that, in surgery at least, there is no single method of discovery but rather a rich variety of methods. Adding to his text are extensive scholarly citations that give a helpful road map into the vast literature on organ transplantation. As this book clearly shows, developing transplantation as a clinical service was not simply a surgical matter, limited to the attainment of technical success. Hamilton describes the crucial multiple influences, helpful and otherwise, that came into play."
—Clyde Barker, M.D. and Thomas E. Starzl, M.D., Ph.D., from the Foreword
"What a superb book! Hamilton, a retired transplant surgeon . . . is not content merely to list achievements in organ transplantation from antiquity through the end of the 20th century. Instead, he has written a wide-ranging, comprehensive evaluation of the factors--inculding luck--that account for this intellectually imposing specialty. This is probably the first history of the field that will make it look complete and recognizable to practitioners. Historians of medicine wiill admire the book for its critical use of primary documents. Those who study immunology or hematology or their histories will also profit greatly from it. . . a pleasure to read. Hamilton is a master of style, and readers will not be disappointed. No serious library
should be without this book. Summing up: Essential."
—Choice
"I have learnt a huge amount from this book, and it is humbling to realise once again how privileged I am as a transplant surgeon to be part of this legacy spanning several hundred years, giving new meaning to the phrase 'standing on the shoulders of giants'."
—Lorna Marson for Surgeons' News
University of Pittsburgh Press, 9780822944133, 560pp.
Publication Date: June 15, 2012
About the Author
David Hamilton is a retired surgeon and honorary senior lecturer at the Medical School of St. Andrews University, where he teaches medical history. He is the author of two previous books, The Monkey Gland Affair and The Healers: A History of Medicine in Scotland.
or
Not Currently Available for Direct Purchase