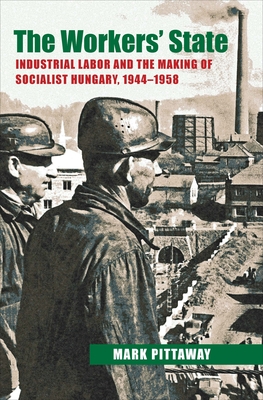 The Workers' State (Hardcover)
Industrial Labor and the Making of Socialist Hungary, 1944–1958 (Russian and East European Studies)
University of Pittsburgh Press, 9780822944201, 400pp.
Publication Date: October 28, 2012
* Individual store prices may vary.
Description
In 1956, Hungarian workers joined students on the streets to protest years of wage and benefit cuts enacted by the Communist regime. Although quickly suppressed by Soviet forces, the uprising led to changes in party leadership and conciliatory measures that would influence labor politics for the next thirty years.

In The Workers' State, Mark Pittaway presents a groundbreaking study of the complexities of the Hungarian working class, its relationship to the Communist Party, and its major political role during the foundational period of socialism (1944–1958). Through case studies of three industrial centers—Újpest, Tatabánya, and Zala County—Pittaway analyzes the dynamics of gender, class, generation, skill level, and rural versus urban location, to reveal the embedded hierarchies within Hungarian labor. He further demonstrates how industries themselves, from oil and mining to armaments and textiles, possessed their own unique labor subcultures.

From the outset, the socialist state won favor with many workers, as they had grown weary of the disparity and oppression of class systems under fascism. By the early 1950s, however, a gap between the aspirations of labor and the goals of the state began to widen. In the Stalinist drive toward industrialization, stepped up production measures, shortages of goods and housing, wage and benefit cuts, and suppression became widespread.

Many histories of this period have focused on Communist terror tactics and the brutal suppression of a pliant population. In contrast, Pittaway's social chronicle sheds new light on working-class structures and the determination of labor to pursue its own interests and affect change in the face of oppression. It also offers new understandings of the role of labor and the importance of local histories in Eastern Europe under communism.
About the Author
Mark Pittaway was senior lecturer in European Studies at The Open University, London, and the author of Eastern Europe, 1939–2000.

Praise For The Workers' State: Industrial Labor and the Making of Socialist Hungary, 1944–1958 (Russian and East European Studies)…
"Mark Pittaway makes a powerful argument for the necessity of studying industrial communities to understand the dynamics of early socialist state formation in Hungary. Pittaway takes full advantage of the rich archival materials he has carefully studied, giving us a nuanced sense of everyday life, as well as indicating how poor our conception of Hungarian industrial working class experience in the 1950s has been."
—Martha Lampland, University of California, San Diego

"In this imaginatively conceived and meticulously researched book, the late Mark Pittaway masterfully reconstructs the history of Hungary's working class in the early years of Communist rule. Fiercely committed to a 'history from below' in all its messy complexity, Pittaway uncovers the strategies of negotiation, bargaining, and resistance with which Hungarian workers made a place for themselves in the newly created workers' state. This is social history at its finest, theoretically sophisticated, lucidly argued, and provocative in its claims. It will be essential reading for all historians of East-Central Europe."
—Paul Hanebrink, Rutgers University

"A necessary book for comparative political scientists who want to examine Hungary's political system (especially the election system). Due to the fact that it examines identities as a whole, the book is suitable for providing relevant comparative criterions."
—Politics in Central Europe
"Pittaway's study not only expands our knowledge of the complexities of the communist experiment in Hungary but also provides insight into the fragile relations between the workers and the modern state. Critics might find his generalizations about the nature of the communist regime slightly exaggerated, being drawn from three specific case studies, because it does not include other social groups. However, his detailed history of the everyday struggle of representatives of the working class demonstrates how far removed communist policies really were, and why the party soon became the oppressor in the eyes of those it wanted to liberate in order to create the new ideal society."
—American Historical Review
"Occupies a place of distinction not only in the scholarship on the political engagement of the industrial workers in Hungary, but in the research on the history of the industrial workers in Europe. It situates the attempt to create Socialism in Hungary in an international context and thus provides a point of departure for further comparative study. Pittaway's research, work that spanned a decade and a half, has revitalized scholarship on the subject, which had been increasingly marginalized in the historiography. In all likelihood his monograph will influence research on the lives and experiences of industrial workers, who represented the largest social bloc and whose living coniditions should therefore be in the forefront of scholarship on the era, for decades."
—Hungarian Historical Review
"Apart from making a strong argument thoroughly grounded in archival sources and full command of the secondary literature, Pittaway's work is a refreshing reinterpretation of a crucial period in the making of socialist Hungary."
—Slavic Review
"Based upon an extraordinary amount of research, The Workers' State argues for the pivotal importance of industrial workers in the ultimate establishment of 'stable socialist rule in twentieth-century Hungary."
—Journal of Modern History
"Path-breaking . . . sheds new light on the social origins of 1956 by exploring the reasons for the workers' mounting discontent and the deeply seated disappointment with 'their' regime. A landmark in the writing of twentieth-century Hungarian history."
—Social History
or
Not Currently Available for Direct Purchase