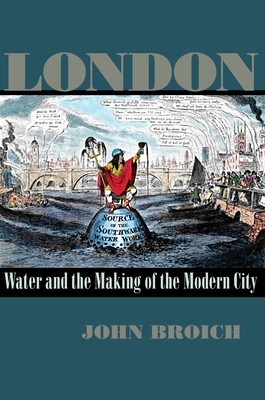 London
Water and the Making of the Modern City (Pittsburgh Hist Urban Environ)
Hardcover

* Individual store prices may vary.
Description
As people crowded into British cities in the nineteenth century, industrial and biological waste byproducts and then epidemic followed. Britons died by the thousands in recurring plagues. Figures like Edwin Chadwick and John Snow pleaded for measures that could save lives and preserve the social fabric.
The solution that prevailed was the novel idea that British towns must build public water supplies, replacing private companies. But the idea was not an obvious or inevitable one. Those who promoted new waterworks argued that they could use water to realize a new kind of British society—a productive social machine, a new moral community, and a modern civilization. They did not merely cite the dangers of epidemic or scarcity. Despite many debates and conflicts, this vision won out—in town after town, from Birmingham to Liverpool to Edinburgh, authorities gained new powers to execute municipal water systems.
But in London local government responded to environmental pressures with a plan intended to help remake the metropolis into a collectivist society. The Conservative national government, in turn, sought to impose a water administration over the region that would achieve its own competing political and social goals. The contestants over London's water supply matched divergent strategies for administering London's water with contending visions of modern society. And the matter was never pedestrian. The struggle over these visions was joined by some of the most colorful figures of the late Victorian period, including John Burns, Lord Salisbury, Bernard Shaw, and Sidney and Beatrice Webb.
As Broich demonstrates, the debate over how to supply London with water came to a head when the climate itself forced the endgame near the end of the nineteenth century. At that decisive moment, the Conservative party succeeded in dictating the relationship between water, power, and society in London for many decades to come.
Praise For London: Water and the Making of the Modern City (Pittsburgh Hist Urban Environ)…
"A pleasure to read. Broich demonstrates that the resolution of the problems of supplying water to London—the first world city—hampered as it had been by deeply entrenched interests, brought about a new level of ideological politicization of the water industry in Britain. He shows how the dynamics of 'progress' and inertia are not straightforward."—Raymond Smith, independent environmental historian
"Much more than an account of the watering of a great metropolis, Broich's book reminds us that cities are infrastructural achievements, that creating infrastructure is complicated and divisive and yet profoundly transformative."
—Christopher Hamlin, University of Notre Dame
"In this clearly written study . . . the author offers fresh insights into the intricate political maneuverings dealing with London water policy, the tension between Parliament and devolved local authorities, and laissez-faire dogma versus Fabian socialism. . . . A concise, useful examination of a key aspect of London's modern development."
—Choice
"This book provides a detailed narrative of the shift from private to public enterprise in the nineteenth century . . . Its long-term contribution will be to add to our knowledge of how the nineteenth century created not only the idea of controlling private enterprise but the concept of public enterprise, notably in the form of grandiose water schemes which survive today and to which we remain much in debt."
—Environmental Values
University of Pittsburgh Press, 9780822944270, 232pp.
Publication Date: April 15, 2013
About the Author
John Broich is assistant professor of the history of modern Britain and its empire at Case Western Reserve University.

or
Not Currently Available for Direct Purchase