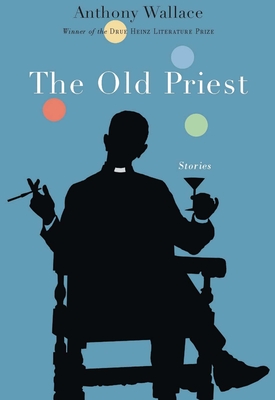 The Old Priest (Pitt Drue Heinz Lit Prize) (Hardcover)
University of Pittsburgh Press, 9780822944294, 184pp.
Publication Date: September 9, 2013
* Individual store prices may vary.
Description
The Old Priest is a book of transformations. From the cigar-smoke-and-mirrors world of casino life, to the collection's title character morphing into a goat-man before the narrator's eyes, to a family drama upended by a miniature dinosaur in the backyard, Anthony Wallace writes about life-changing events. The characters seek to escape their earthly boundaries through artifice and fantasy, and those boundaries can be as elegant and fragile as a martini glass or as hardscrabble as an Indian reservation. In these eight vividly detailed short stories we encounter cheating husbands, neurotic housewives, out-of-control teenagers, desperate gamblers, deluded alcoholics, and a host of others who would like a chance at something more. Some face the consequences of their actions, while others simply begin to see what they've been missing all along. Through wry, ironic prose—and what feels like firsthand experience—Wallace describes a comic and often misguided search for self-knowledge in the most unlikely locations—like the Emerald City, a low-rent gambling den where a cocktail waitress dressed as an X-rated Dorothy offers gamblers more than a Scotch on the rocks; or the Bastille Hotel-Casino, where a dealer dressed as an eighteenth century footman deals five-dollar blackjack to a reminiscing Holocaust survivor.  Occasionally a real demon appears, but the collection is mostly about personal demons and the possibility of exorcising them. The stories in The Old Priest have to do with time and memory, and they convincingly open out beyond ordinary daily time to reveal something else—the present moment, perhaps, but a larger, more mysterious conception of it.

About the Author
Anthony Wallace is a senior lecturer in the Arts and Sciences Writing Program at Boston University, where he is codirector of "Arts Now," a curriculum-based initiative to support the arts at BU. He has published poetry and short fiction in a number of literary journals, including CutBank, the Atlanta Review, Another Chicago Magazine, the Florida Review, River Styx, and the Republic of Letters. His title story, "The Old Priest," won a Pushcart Prize and was included in Pushcart Prize XXXVII (2013 edition). He and his wife Allene reside in Brookline, Massachusetts.

Praise For The Old Priest (Pitt Drue Heinz Lit Prize)…
The title story of Anthony Wallace's debut collection, "The Old Priest," is far less optimistic in its treatment of church scandal. The old priest, "Jesuit, brainy and fey," is a raconteur par excellence who lives off the admiration of the talented young men he once guided through Catholic school. The story's narrator was one of those bright young things, but as he ages and fails to fulfill his promise, he is haunted by his mentor's long-ago sexual trespasses, which evoke an unbearable morass of love and shame, need and resentment.

Such is the tone of much of this acid-etched collection. Many of the stories center on overeducated casino employees in Atlantic City, men who expected that something else would happen with their lives. Some stories . . . peer at the bitter dregs of these men's fortunes. The most memorable, however, hurl the characters headfirst into the back alleys of drugs and rough trade. "The Unexamined Life," written with chilling poise, watches a middle-aged man abandon his wife and son for a sex worker. "What was it like here on the other side," he thinks, "where people just did whatever came to mind, lust and squalor and hopelessness like the dark shaft of a centerpole in a tent where all the lights had been extinguished." The line separating decency and degradation turns out to be frighteningly easy to cross.
—Wall Street Journal
"Anthony Wallace's stories resonate with a strong narrative voice. They are melancholy stories whose oral nature juxtaposes adjectives and metaphors to create a haunting imagery. . . . Even with their somberness, it's difficult to read these stories and not be caught into the storyteller's spell. . . .In the midst of these stories of potential futility, it is Wallace's crafting and use of beautiful language to balance emotions and complex levels of development that keeps the reader from also losing hope. Long after finishing the collection, these stories sit and haunt the thoughts of the reader, reliving that sense of 'maybe this time' that lives in us all."
—North American Review
"Along with a title story that has the scale and scope of a novel, these stories feature people who 'struggle every day with good and evil.' Whether it's a digressive story of family dissolution with a touch of the magical or a casino worker's evocative drive home along the Jersey Shore, the author is finely attuned to those defining moments when hope and giving up become difficult to distinguish. The stories are always provocative; they overturn our expectations, and the characters' lack of self-pity is just one source of their power. The prose is often powered by yearning and takes us through recklessness and defiance to deliver a benediction where we would not expect to find one."
—Amy Hempel
"Anthony Wallace's short fiction collection, The Old Priest, slices with the precision of a cardiac surgeon into a unique array of American hearts afflicted by despair.  Most of these characters—casino workers, estranged spouses, drifters, meth-heads, even writers—have blundered into life's cul-de-sacs still uncertain about whether they are lost and where else they'd like to go.  The title novella is a remarkable jewel that expands not only traditional limits on narrative but our understanding of terms like 'betrayal,' 'abuse,' 'faith,' and 'love.'"
—Susan Beegel, Hemingway Foundation / PEN Award and Helene Atwan, PEN New England
"This writer's 'beat' is mostly southern New Jersey—with a few side trips to Las Vegas—and he knows the tawdry casinos, sex clubs, and trailers not from the vantage of tourists but from the people who live and work there. The acid voices that tell these stories of losers and self-deluders are cut a tiny bit by the sugar of pity, but never by self-pity. There's a stern moral force behind the gaze of this writer, who sees and tells and does not look away."
—April Bernard
"
The Old Priest
is a wonderfully nuanced collection, whose stories are well grounded and vibrant with lively characters and revealing details. A splendid debut."
—Ha Jin
"[A standout.] First, for the characters in the stories and their rich internal lives; second, for the craft; and finally, because several of the stories took me places I didn't expect to travel and made me think about storytelling in new ways I might not have without reading the book."
—TriQuarterly
"With deft, wry prose and characters so vividly drawn you know them, Wallace introduces readers to a world as distorted as a fun house mirror, peppered by meth addicts, alcoholics, disgruntled spouses, die-hard gamblers, and a fascinating old priest. . . .The title story is the gem of the collection, a provocative piece of metafiction with the breadth of a novel. It is a stunning examination of Catholic guilt, a predatory priest, and the fallout of a teenage encounter that leaves in its wake confusion, shame, love, and loss. The relationship, at once ambiguous and deeply troubling, is recursive and spans decades. The brilliance of the story is its very uncertainty, why the narrator returns time and again for his friend's approval."
--Mid-American Review
or
Not Currently Available for Direct Purchase