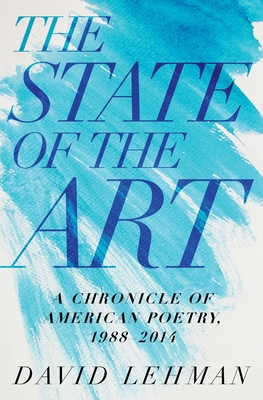 The State of the Art (Hardcover)
A Chronicle of American Poetry, 1988-2014 (Pitt Poetry Series)
University of Pittsburgh Press, 9780822944393, 240pp.
Publication Date: April 6, 2015
* Individual store prices may vary.
Description
The acclaimed annual, The Best American Poetry, is the most prestigious showcase of new poetry in the United States and Canada. Each year since the series began in 1988, David Lehman has contributed a foreword, and this has evolved into a sort of state-of-the-art address that surveys new developments and explores various matters facing poets and their readers today. This book collects all twenty-nine forewords (including the two written for the retrospective "Best of the Best" volumes for the tenth and twenty-fifth anniversaries.)  Beginning with a new introduction by Lehman and a foreword by poet Denise Duhamel (guest editor for The Best American Poetry 2013), the collection conveys a sense of American poetry in the making, year by year, over the course of a quarter of a century.
About the Author
David Lehman's books of poetry include New and Selected Poems, Yeshiva Boys, When a Woman Loves a Man, The Evening Sun, The Daily Mirror, and Valentine Place. He has edited The Oxford Book of American Poetry. A Fine Romance: Jewish Songwriters, American Songs, the most recent of his six nonfiction books, won the Deems Taylor Award from the American Society of Composers, Authors, and Publishers (ASCAP) in 2010. Lehman teaches in the graduate writing program of the New School in New York City.
Praise For The State of the Art: A Chronicle of American Poetry, 1988-2014 (Pitt Poetry Series)…
"In 1987, Lehman, the prolific poet, critic and editor, somehow talked Scribner into publishing an annual anthology to be called The Best American Poetry, and so became the Casey Kasem of American verse. More than a quarter-century later, likely to the surprise of everyone except the indefatigable Lehman himself, the series is still going strong. . . . the joy of the project, for me, arises exactly from the fact that its click-bait cachet gets people reading and discussing contemporary poems. Lehman has contributed brief forewords to every volume; this book collects them. They aren't scholarly, and aren't meant to be. Read end to end, they form a swift, dishy, insightful, entertaining account of American poetry's fashions and trajectories as one century sputtered out and the next cleared its throat."
—New York Times

 
"Lehman, though primarily known as a poet (Yeshiva Boys, When a Woman Loves a Man, and others), is a fine editor (The Oxford Book of American Poetry) and nonfiction writer (A Fine Romance: Jewish Songwriters, American Songs) who teaches in the graduate writing program of the New School in New York City. He has also written the forewords to the prestigious annual showcase of new poems from Canada and the United States, The Best American Poetry, since its inception in 1988. This volume gathers his forewords (and several anniversary and "best of" introductions) into a collection of 29 essays that encourage poets and readers to explore the evolution of poetry over the last 27 years. Much like Dana Gioia's Can Poetry Matter?, this title offers insightful observations about the genre. VERDICT Readers and scholars who love poetry will find much to return to again and again in Lehman's fine collection of essays."
—Library Journal (starred review)
 
Praise for The Best American Poetry series
"A concentrated, high-caliber, and exhilarating overview of the intensity and artistry that have made American poetry so splendidly varied and vital since 1988. . . . This is an anthology of broad scope, serious pleasure, and invaluable illumination."
—Booklist

 
Praise for The Best American Poetry series
"This indispensable volume, with its rich mix of voices, forms and techniques, serves as a melting pot of contemporary American verse."
—Book Page

 
Praise for The Best American Poetry series
"Every year, the annual Best American Poetry anthology arrives like the gift that keeps giving."
—Entertainment Weekly

 
Praise for The Best American Poetry series
"A 'best' anthology that really lives up to its title."
—Chicago Tribune
 
Praise for The Best American Poetry series
"A year's worth of the very best."
—People
 
or
Not Currently Available for Direct Purchase