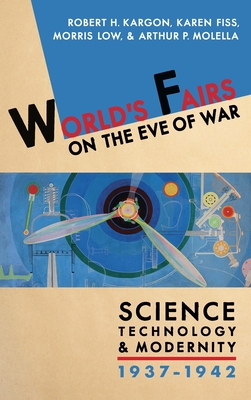 World's Fairs on the Eve of War (Hardcover)
Science, Technology, and Modernity, 1937–1942
University of Pittsburgh Press, 9780822944447, 216pp.
Publication Date: November 6, 2015
* Individual store prices may vary.
Description
Since the first world's fair in London in 1851, at the dawn of the era of industrialization, international expositions served as ideal platforms for rival nations to showcase their advancements in design, architecture, science and technology, industry, and politics. Before the outbreak of World War II, countries competing for leadership on the world stage waged a different kind of war—with cultural achievements and propaganda—appealing to their own national strengths and versions of modernity in the struggle for power. World's Fairs on the Eve of War examines five fairs and expositions from across the globe—including three that were staged (Paris, 1937; Dusseldorf, 1937; and New York, 1939–40), and two that were in development before the war began but never executed (Tokyo, 1940; and Rome, 1942). This coauthored work considers representations of science and technology at world's fairs as influential cultural forces and at a critical moment in history, when tensions and ideological divisions between political regimes would soon lead to war.
About the Author
Robert H. Kargon is the Willis K. Shepard Professor of the History of Science at Johns Hopkins University.
Karen Fiss is professor of visual studies and design at California College of the Arts.
Morris Low is associate professor of Japanese history at University of Queensland, Australia.
Arthur P. Molella is director of the Lemelson Center for the Study of Invention and Innovation, Smithsonian Institution.
Praise For World's Fairs on the Eve of War: Science, Technology, and Modernity, 1937–1942…
"Kargon and his coauthors provide a geographical and chronological look at world expositions between 1937 and 1942. Each chapter delves into a different fair, revealing the political, social, and economic motivations for their development. Recommended."
—Choice
 
"An important addition to a small but growing body of literature on the history of world's fairs. Its concise format and easy prose should appeal to scholars and fair enthusiasts alike. It is particularly well-suited for classroom use, as it synthesizes existing work on the featured fairs into digestible narratives and includes a helpful bibliography for those pursuing further research."
—H-Net Reviews
"The volume adds a significant contribution to the knowledge of interwar period world's fairs in Europe, U.S. and Japan. Between the depiction of the past and the imagination of the future, between tradition and modernity, the study of interwar period world's fairs allows to deepen representations of science and technology at a critical moment in history. The comparative work of Kargon, et al, contributes in a relevant way to the knowledge of this multilayered panorama, showing at the same time that there's still a lot of research to do on exhibitions in the twentieth century."
—Nuncius
"A successful approach to show the political and economic forces that shape the image as well as the (intended) perception of technology . . . In discussing the concepts of modernity that can be found in each of these exhibitions (and in their planning), the authors provide a rich image of perspectives that were created in the (mainly) national context of these events. This is clearly the strength of this book, and this makes this study valuable not just for historians of science or for scholars interested in the creation of public images of technology or in approaches to popularizing ideas of technology . . . provides a remarkable case study on external aspects that shape the image of technology that was created in these expositions."
—Science & Education
"This is an original, well-executed account of a neglected facet of the history of international exhibitions. As a contribution to our understanding of a passage in history in which democratic, communist, and reactionary/fascist regimes all used international exhibitions as a vehicle for displaying their antagonistic wares, this is a book that was waiting to be written."
—Robert Fox, University of Oxford
"World's fairs of the 1930s are sometimes remembered as funhouse mirrors of artistic and architectural modernism. This thought-provoking book takes a different view, underscoring their seriousness of purpose in branding nations as they prepared for war. Students of cultural and public diplomacy will find this an eye-opening study."
 —Robert Rydell, Montana State University, and author of World of Fairs: The Century-of-Progress Expositions