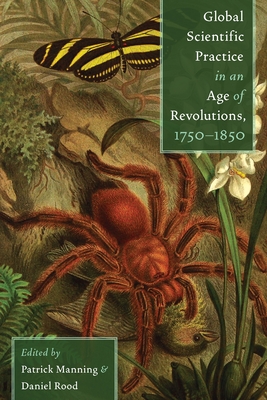 Global Scientific Practice in an Age of Revolutions, 1750-1850
Hardcover

* Individual store prices may vary.
Description
The century from 1750 to 1850 was a period of dramatic transformations in world history, fostering several types of revolutionary change beyond the political landscape. Independence movements in Europe, the Americas, and other parts of the world were catalysts for radical economic, social, and cultural reform. And it was during this age of revolutions—an era of rapidly expanding scientific investigation—that profound changes in scientific knowledge and practice also took place.

In this volume, an esteemed group of international historians examines key elements of science in societies across Spanish America, Europe, West Africa, India, and Asia as they overlapped each other increasingly. Chapters focus on the range of participants in eighteenth- and nineteenth-century science, their concentrated effort in description and taxonomy, and advancements in techniques for sharing knowledge. Together, contributors highlight the role of scientific change and development in tightening global and imperial connections, encouraging a deeper conversation among historians of science and world historians and shedding new light on a pivotal moment in history for both fields.
Praise For Global Scientific Practice in an Age of Revolutions, 1750-1850…
"Provides a refreshing perspective on how the European drive for colonization and exploration created a need for new technologies and a wealth of accurate natural history investigations."
—Choice

"As these uniformly excellent essays demonstrate, the task of constructing histories of science that provide cogent narratives about scientific practices might be described, in one way or another, as 'global' is hugely demanding. . . . the essays reviewed here represent an exciting beginning to a larger project with much promise."
—British Journal for the History of Science 

"This volume shows convincingly that bringing together perspectives from both history of science and world history opens new and fascinating perspectives on the way scientific knowledge developed within an expanding and more interconnected world. It is a welcome and original contribution to the broad debate on the nature and impact of scientific knowledge in a multifocal, global perspective."
—Eric Vanhaute, Ghent University

"This is an exciting project that reflects a trend in recent historiography to broaden the scope from microstudies by bringing in perspectives from both global history and the history of knowledge. It is a timely contribution to history more generally and will be warmly welcomed not only by historians of science but also by global and imperial historians as well."
—Staffan Müller-Wille, University of Exeter

"Ambitious, thought-provoking, and informed by cutting edge historiography, this book is an important offering to the many fields with which it intersects."
—Qiong Zhang, Journal of World History 

"By editing these three volumes, Patrick Manning, Abigail Owen, Daniel Rood, and Mat Savelli have done the discipline a huge service. All three volumes are essential reading for historians of science regardless of their specialization, and they reveal the marked importance of the history of science for understanding global developments in the past millennium." —Isis
 
University of Pittsburgh Press, 9780822944546, 392pp.
Publication Date: July 8, 2016
About the Author
Patrick Manning is Andrew W. Mellon Professor Emeritus of World History and Director, World History Center at the University of Pittsburgh.
Daniel Rood is assistant professor of history at the University of Georgia, Franklin College.
or
Not Currently Available for Direct Purchase