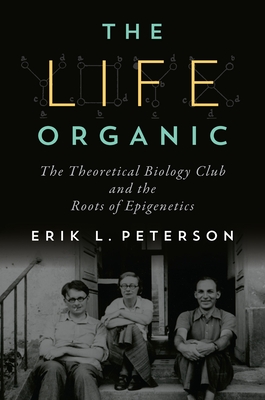 The Life Organic (Hardcover)
The Theoretical Biology Club and the Roots of Epigenetics
University of Pittsburgh Press, 9780822944669, 352pp.
Publication Date: January 13, 2017
* Individual store prices may vary.
Description
As scientists debated the nature of life in the nineteenth century, two theories predominated: vitalism, which suggested that living things contained a "vital spark," and mechanism, the idea that animals and humans differed from nonliving things only in their degree of complexity. Erik Peterson tells the forgotten story of the pursuit of a "third way' in biology, known by many names, including "the organic philosophy," which gave rise to C. H. Waddington's work in the subfield of epigenetics: an alternative to standard genetics and evolutionary biology that captured the attention of notable scientists from Francis Crick to Stephen Jay Gould. The Life Organic chronicles the influential biologists, mathematicians, philosophers, and biochemists from both sides of the Atlantic who formed Joseph Needham's Theoretical Biology Club, defined and refined "third way" thinking through the 1930s, and laid the groundwork for some of the most cutting-edge achievements in biology today. By tracing the persistence of organicism into the twenty-first century, this book also raises significant questions about how we should model the development of the discipline of biology going forward.
About the Author
Erik L. Peterson is assistant professor of history at the University of Alabama.
Praise For The Life Organic: The Theoretical Biology Club and the Roots of Epigenetics…
"This is an excellent history of a debate that continues today. . . . The Life Organic is an excellent tour of the evolution of "reductionist" and "systems" approaches to biology in the 20th century." 
—Choice
"A handful of scholars have considered the place of organicism in biology, but until now no one has offered an extended treatment of the rise of organicist thinking, or its later decline. This book has undertaken an ambitious and far-reaching survey of debates among vitalists, mechanists, and organicists from the nineteenth through the twentieth century—a formidable task, but one that will be of interest to many scholars in the history and philosophy of biology, and within biology itself."
—Michael R. Dietrich, Dartmouth College
"The Life Organic is a monumental tour through the history of the organic philosophy—the belief that phenomena of life exhibit higher-order modes of organization rather than simply being the sum of their parts. The author convincingly argues that organicism (in contrast to the more popular philosophical and empirical reductionism) remains one of the 'fundamental philosophical questions' in the life sciences—along with mechanism versus vital forces, preformation versus epigenesis—and continues to motivate certain scientists. It is an outstanding book that will easily become the classic source on organicism and epigenesis."
—Marsha Richmond, Wayne State University
"Peterson has made an important contribution to the literature on twentieth century organicism, and one that no one interested in the subject can afford to ignore.  Historians, philosophers, and biologists will all find something to enjoy (and to disagree with) in this book."
—Journal of the History of Biology 
". . .the most comprehensive engagement of organicist thought from one source in the almost half century since Donna Haraway's
(1976) touchstone Crystals Fabrics, and Fields. . . . the book's overall value to the community is substantial."
—Daniel S. Brooks, History and Philosophy of the Life Sciences
or
Not Currently Available for Direct Purchase