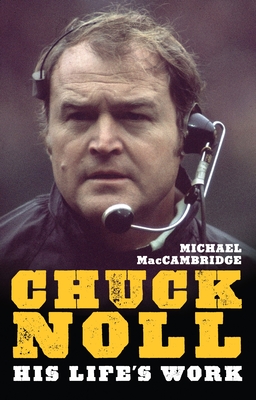 Chuck Noll (Hardcover)
His Life's Work
University of Pittsburgh Press, 9780822944683, 504pp.
Publication Date: October 28, 2016
Other Editions of This Title:
Paperback (11/3/2017)
Compact Disc (8/8/2017)
MP3 CD (8/8/2017)
* Individual store prices may vary.
Description
Chuck Noll won four Super Bowls and presided over one of the greatest football dynasties in history, the Pittsburgh Steelers of the '70s. Later inducted into the Pro Football Hall of Fame, his achievements as a competitor and a coach are the stuff of legend. But Noll always remained an intensely private and introspective man, never revealing much of himself as a person or as a coach, not even to the players and fans who revered him.
            Chuck Noll did not need a dramatic public profile to be the catalyst for one of the greatest transformations in sports history. In the nearly four decades before he was hired, the Pittsburgh Steelers were the least successful team in professional football, never winning so much as a division title. After Noll's arrival, his quiet but steely leadership quickly remolded the team into the most accomplished in the history of professional football.  And what he built endured well beyond his time with the Steelers – who have remained one of America's great NFL teams, accumulating a total of six Super Bowls, eight AFC championships, and dozens of division titles and playoff berths.
            In this penetrating biography, based on deep research and hundreds of interviews, Michael MacCambridge takes the measure of the man, painting an intimate portrait of one of the most important figures in American football history. He traces Noll's journey from a Depression-era childhood in Cleveland, where he first played the game in a fully integrated neighborhood league led by an African-American coach and then seriously pursued the sport through high school and college.  Eventually, Noll played both defensive and offensive positions professionally for the Browns, before discovering that his true calling was coaching.  MacCambridge reveals that Noll secretly struggled with and overcame epilepsy to build the career that earned him his place as "the Emperor" of Pittsburgh during the Steelers' dynastic run in the 1970s, while in his final years, he battled Alzheimer's in the shelter of his caring and protective family.
            Noll's impact went well beyond one football team. When he arrived, the city of steel was facing a deep crisis, as the dramatic decline of Pittsburgh's lifeblood industry traumatized an entire generation. "Losing," Noll said on his first day on the job, "has nothing to do with geography." Through his calm, confident leadership of the Steelers and the success they achieved, the people of Pittsburgh came to believe that winning was possible, and their recovery of confidence owed a lot to the Steeler's new coach. The famous urban renaissance that followed can only be understood by grasping what Noll and his team meant to the people of the city. The man Pittsburghers could never fully know helped them see themselves better.
            Chuck Noll: His Life's Work tells the story of a private man in a very public job. It explores the family ties that built his character, the challenges that defined his course, and the love story that shaped his life. By understanding the man himself, we can at last clearly see Noll's profound influence on the city, players, coaches, and game he loved. They are all, in a real sense, heirs to the football team Chuck Noll built.
About the Author
Michael MacCambridge is one of the nation's foremost authorities on football. His book America's Game: The Epic Story of How Pro Football Captured a Nation was named one of the most distinguished works of nonfiction by the Washington Post in 2004 and won the Nelson Ross Award from the Professional Football Researchers Association. He also edited the critically acclaimed ESPN College Football Encyclopedia, hailed by Sports Illustrated as "the Bible" of the sport. In addition to his many books, MacCambridge's freelance writing has appeared in the New York Times, the Wall Street Journal, the Washington Post, Sports Illustrated, and GQ.
Praise For Chuck Noll: His Life's Work…
"Chuck Noll transformed the Pittsburgh Steelers into one of the greatest dynasties in NFL history. Yet, both during his career and after, he was underappreciated, relatively uncelebrated, and—in part by his own choice—not fully understood. Michael MacCambridge's carefully researched and beautifully written biography finally brings into clear focus one of the most accomplished coaches in the history of American sports."
—Bob Costas, NBC Sports
"If Michael MacCambridge wrote a book about the painting of my house, I'd devour it—he's that good—a master of bringing a complicated and compelling history to life. In Chuck Noll: His Life's Work, he paints vivid pictures of how Noll ended up in Pittsburgh, why he was perfect for the Steelers, and why he was the right man for his time in steering the Steelers toward African American players. Of all the important figures in the NFL in the last fifty years, we knew the least about Noll—until now."
 —Peter King, The MMQB, Sports Illustrated
 
"Michael MacCambridge goes behind the Steel Curtain and unveils the coach who delivered a football dynasty, Chuck Noll. Having covered Chuck during most of his Steelers career, I learned things I didn't know about his struggles and his brilliance. Thanks to relentless research and impressive interviews, Michael puts you behind the desk and along the sidelines to show how one of football's greatest minds executed his successful game plan. A Hall of Fame effort."
—John Clayton, ESPN
"A biography long overdue, in the works for several years, and the phenomenal research and writing shows it. Anyone—including his players—who thought they knew Noll will find they probably did not.  . . . Dan Rooney asked MacCambridge to write a book on Noll after reading his 2004 book 'America's Game' on pro football that has been acclaimed as one of the best ever written about the sport. This one should join them."
—Pittsburgh Post-Gazette

 
"The first-ever, thorough, and legitimate biography of Noll. . . . It would have been easy for MacCambridge to take the easy way out, to pander to Steelers fans who never seem to get enough about their favorite team's dominance of the 1970s. But he didn't, and that's just one of the reasons why his book is the definitive one written about Chuck Noll."
—Steelers.com
"It's hard to think of any football coaches who were more successful than Chuck Noll, though others became more famous. It's great that a writer as thorough and intelligent as MacCambridge has finally written the book that will galvanize Noll in the rarefied category he deserves."
—Chuck Klosterman, author of But What If We're Wrong?
 
"MacCambridge has given us the definitive look at the life and times of Chuck Noll. More than just the legendary coach of the Steelers, Noll was a Renaissance man with widespread interests and loyalties. It all comes alive here thanks to MacCambridge's inimitable touch and meticulous research."
 —Bob McGinn,author of The Ultimate Super Bowl Book