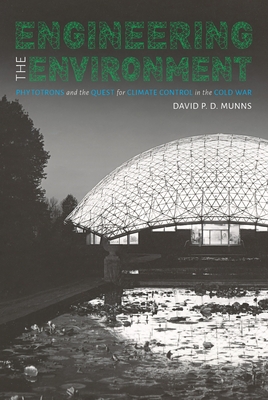 Engineering the Environment
Phytotrons and the Quest for Climate Control in the Cold War
Hardcover

* Individual store prices may vary.
Description
This is the first history of phytotrons, huge climate-controlled laboratories that enabled plant scientists to experiment on the environmental causes of growth and development of living organisms. Made possible by computers and other modern technologies of the early Cold War, such as air conditioning and humidity control, phytotrons promised an end to global hunger and political instability, spreading around the world to thirty countries after World War II. The United States built nearly a dozen, including the first at Caltech in 1949. By the mid-1960s, as support and funding for basic science dwindled, phytotrons declined and ultimately disappeared—until, nearly thirty years later, the British built the Ecotron to study the impact of climate change on biological communities. By recalling the forgotten history of phytotrons, David P. D. Munns reminds us of the important role they can play in helping researchers unravel the complexities of natural ecosystems in the Anthropocene.
Praise For Engineering the Environment: Phytotrons and the Quest for Climate Control in the Cold War…
"This volume provides a glimpse into the scientific questions asked by different groups around the globe, and how their efforts have provided a foundation for current understanding, but also the impetus for how tools need to be developed to answer complex questions."
—Choice
"
Engineering the Environment
offers a lively history of a mostly forgotten but ultimately fascinating scientific instrument. This compelling story of phytotrons and the dreams and disappointments of the technologist-biologists who built them brings new insights and much-needed diversity to the historiography of twentieth-century biology."
—Helen Anne Curry, University of Cambridge
"David Munns has written a carefully grounded and clearly worded account of a subject that is at once important, complex, and woefully neglected. This book will be stimulating to readers interested not only in the ways the phytotron recast the relationship between genes and environment, but also to a much larger group interested broadly in climate change and agricultural technology."
—Joseph A. November, University of South Carolina
"
Engineering the Environment
 is an entertaining read, whether connecting his subjects to sci-fi, or dramatising the waxing and waning of phytotron fortunes, Munns' enthusiasm for the idea of environmental biology and his sympathy for the designers of these buildings is infectious."
—
Journal of the History of Biology
"
Engineering the Environment
offers up a history of a little known, but very Cold War, category of facilities known as 'phytotrons.'...Munns's book uses plant physiology...as a way to explore the space between the Big Science of the physicists and the control fantasies of the computer scientists."
—Alex Wellerstein, Stevens Institute of Technology
University of Pittsburgh Press, 9780822944744, 384pp.
Publication Date: May 10, 2017
About the Author
David P. D. Munns is associate professor of history at John Jay College, City University of New York. He is the author of A Single Sky: How an International Community Forged the Science of Radio Astronomy.
or
Not Currently Available for Direct Purchase