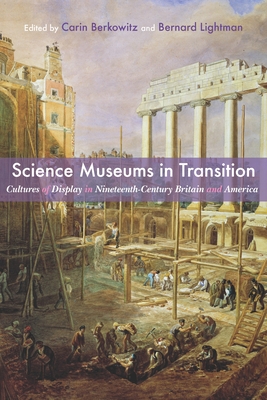 Science Museums in Transition
Cultures of Display in Nineteenth-Century Britain and America (Sci & Culture in the Nineteenth Century)
Hardcover

* Individual store prices may vary.
Description
Winner, Outstanding Academic Title 2017, Choice Magazine

The nineteenth century witnessed a dramatic shift in the display and dissemination of natural knowledge across Britain and America, from private collections of miscellaneous artifacts and objects to public exhibitions and state-sponsored museums. The science museum as we know it—an institution of expert knowledge built to inform a lay public—was still very much in formation during this dynamic period. Science Museums in Transition provides a nuanced, comparative study of the diverse places and spaces in which science was displayed at a time when science and spectacle were still deeply intertwined; when leading naturalists, curators, and popular showmen were debating both how to display their knowledge and how and whether they should profit from scientific work; and when ideals of nationalism, class politics, and democracy were permeating the museum's walls.
            Contributors examine a constellation of people, spaces, display practices, experiences, and politics that worked not only to define the museum, but to shape public science and scientific knowledge. Taken together, the chapters in this volume span the Atlantic, exploring private and public museums, short and long-term exhibitions, and museums built for entertainment, education, and research, and in turn raise a host of important questions, about expertise, and about who speaks for nature and for history.
Praise For Science Museums in Transition: Cultures of Display in Nineteenth-Century Britain and America (Sci & Culture in the Nineteenth Century)…
"On both sides of the Atlantic, exhibitions, public demonstrations, and a salmagundi of museums made science available to all kinds of audiences. The essays in this enjoyable collection add mightily to our understanding of nineteenth-century science, and they remind us that a vibrant world of public engagement existed where science was performed and put on display."
—Steven Conn, Miami University
"
Science Museums in Transition
 blurs distinctions between exhibitions and museums with a deft appreciation of the role of performance and spectacle. It stresses the variability of architecture, function, display, and values across the nineteenth century, and therefore what was regarded as a 'museum' and what might be considered to be 'science.'"
 —Sophie Forgan, Captain Cook Memorial Museum
"This book allows its readers to see what that paradoxical institution-defining process looked like, both in broad outlines, over a decades-long panorama, and close-up, in exquisitely researched and well-written micro-narratives. Taken together, these essays explain why museums became increasingly important and shed further light on the tensions inherent to museums' still-in-transition existence."
—Annals of Science 
"This is a well-conceived and illuminating collection that writes back into museology the protean and contentious varieties of the science museum."
—
Isis
University of Pittsburgh Press, 9780822944751, 368pp.
Publication Date: June 13, 2017
About the Author
Carin Berkowitz is the director of the Beckman Center for the History of Chemistry at the Chemical Heritage Foundation. She is the author of Charles Bell and the Anatomy of Reform and of a series of articles on anatomy, images, and objects published in Bulletin of the History of Medicine, BJHS, and History of Science. Berkowitz is an advisory editor for History of Science and Bulletin of the History of Medicine.
 
Bernard Lightman is professor of humanities at York University and current vice president and president-elect (2018–2019) of the History of Science Society. Among his most recent publications are the edited collections Global Spencerism and A Companion to the History of Science. Lightman is also a general coeditor of The Correspondence of John Tyndall.
or
Not Currently Available for Direct Purchase