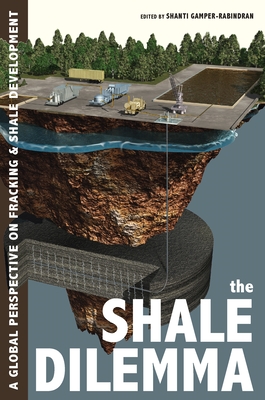 The Shale Dilemma (Hardcover)
A Global Perspective on Fracking and Shale Development (Pittsburgh Hist Urban Environ)
University of Pittsburgh Press, 9780822945130, 416pp.
Publication Date: February 15, 2018
* Individual store prices may vary.
Description
The US shale boom and efforts by other countries to exploit their shale resources could reshape energy and environmental landscapes across the world. But how might those landscapes change? Will countries with significant physical reserves try to exploit them? Will they protect or harm local communities and the global climate? Will the benefits be shared or retained by powerful interests? And how will these decisions be made?
            The Shale Dilemma brings together experts working at the forefront of shale gas issues on four continents to explain how countries reach their decisions on shale development. Using a common analytical framework, the authors identify both local factors and transnational patterns in the decision-making process. Eight case studies reveal the trade-offs each country makes as it decides whether to pursue, delay, or block development. Those outcomes in turn reflect the nature of a country's political process and the power of interest groups on both sides of the issue. The contributors also ask whether the economic arguments made by the shale industry and its government supporters have overshadowed the concerns of local communities for information on the effects of shale operations, and for tax policies and regulations to ensure broad-based economic development and environmental protection.
            As an informative and even-handed account, The Shale Dilemma recommends practical steps to help countries reach better, more transparent, and more far-sighted decisions.
About the Author
Shanti Gamper-Rabindran is associate professor in the Graduate School of Public and International Affairs at the University of Pittsburgh. She was recently selected for the Bley Stein Visiting Professorship at the Arava Institute for Environmental Studies, a leading institute in environmental studies and research in the Middle East.
 
Praise For The Shale Dilemma: A Global Perspective on Fracking and Shale Development (Pittsburgh Hist Urban Environ)…
"The Shale Dilemma provides an evenhanded, extensively-researched, global examination of issues related to production of shale gas through hydraulic fracturing (fracking) and horizontal drilling. . . . By examining different approaches to shale gas, the work leads us to a comprehensive understanding of the 'promises and perils' of development of unconventional fossil fuel."
—Energy Research & Social Science
 
"North America's shale gas revolution has been a global game changer. The key question is: what happens next? This volume provides an indispensable guide to the future prospects for the global industry. A common framework is used to explore the 'shale dilemma' in countries with commercial production, where exploration is at an early stage and where it is banned. The analysis moves beyond established critiques to address the key issues of differential impact and equity and suggests how countries might make better decisions."
—Michael Bradshaw, Professor of Global Energy, Warwick Business School, UK
"The Shale Dilemma brings together leading energy experts to take stock of the multifaceted reasons for why countries decide to (or not) develop their shale gas reserves. Drawing on the US experience, the impressive collection of case studies from across the globe capably examines debates surrounding energy security, economic development, climate change, and local participation in shale gas decision making."
 — Erika Weinthal, Lee Hill Snowdon Professor of Environmental Policy, Duke University
"The book edited by Shanti Gamper-Rabindran fills a significant gap in existing research, bridging energy and environmental economics issues in the investigation of shale resources exploitation, a topic that is still under-scrutinized....Overall, Shanti's edited book collects rigorous and informative country level contributions and provides up to date food for thought, both for academics involved in research related to shale development and energy policies and for policy-makers....this book could also be useful for a broader readership, interested in achieving a clearer picture of the shale puzzle."
—Alessio D'Amato, Economics of Energy & Environmental Policy
"The Shale Dilemma is a clear-sighted presentation on cross-country pros and cons of HVHF that avoids the "much heat but little light" generated by so much public debate on the topic, and leaves the reader with greater insight into technology, geology, economics, law, and the politics of fracking and of the analyzed countries. . . .Overall, without covering up either the potential harms from fracking or the large areas of uncertainty we still face, The Shale Dilemma also makes a clear case for the conditions under which the benefits of fracking natural gas may be worth its costs. . . .But even in these cases, the clear message of the book is that fracking should proceed with caution and should be a temporary measure."
—Heather E. Campbell & Kristoffer E. Wikstrom, Journal of Policy Analysis and Management