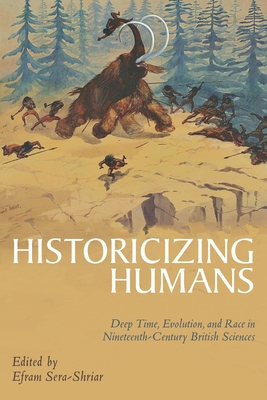 Historicizing Humans
Deep Time, Evolution, and Race in Nineteenth-Century British Sciences (Sci & Culture in the Nineteenth Century)
Hardcover

* Individual store prices may vary.
Description
With an Afterword by Theodore Koditschek

A number of important developments and discoveries across the British Empire's imperial landscape during the nineteenth century invited new questions about human ancestry. The rise of secularism and scientific naturalism; new evidence, such as skeletal and archaeological remains; and European encounters with different people all over the world challenged the existing harmony between science and religion and threatened traditional biblical ideas about special creation and the timeline of human history. Advances in print culture and voyages of exploration also provided researchers with a wealth of material that contributed to their investigations into humanity's past.

Historicizing Humans takes a critical approach to nineteenth-century human history, as the contributors consider how these histories were shaped by the colonial world, and for various scientific, religious, and sociopolitical purposes. This volume highlights the underlying questions and shared assumptions that emerged as various human developmental theories competed for dominance throughout the British Empire.
Praise For Historicizing Humans: Deep Time, Evolution, and Race in Nineteenth-Century British Sciences (Sci & Culture in the Nineteenth Century)…
"In the mid-nineteenth century, new lights—Darwinism, prehistoric archaeology, encounters with the full diversity of the world's peoples—transformed understandings of human origins and development in ways that we are still reckoning with. The stimulating essays in this volume reveal the bewildering mixture of science, religion, racism, universalism, and sheer speculation displayed as new horizons opened up." —Peter Mandler, University of Cambridge

"Historicizing Humans expertly explores how colonial contexts, print culture, and religious commitments influenced scientific theories of human history and race during the nineteenth century. The chapters will be of great interest to historians of the human and natural sciences as well as scholars exploring how ideas and knowledge traveled across Britain's imperial spaces. A fascinating and valuable volume." —Casper Andersen, Aarhus University

"Uniformly well researched and historiographically sensitive, Historicizing Humans invites reflections on unanswered questions while recalling important earlier scholarship." —W. F. Bynum, Journal of British Sciences 

"As well as providing new perspectives on leading figures in the nineteenth-century historicization of humans, this volume serves also to broaden the cast of characters. . . . The shape of the present volume – coherent and integrated, yet diverse and sprawling in its coverage – also attests to an emerging self-awareness and collective purpose among historians of human historicization, who can now see themselves as participating in a common project." —British Journal 
University of Pittsburgh Press, 9780822945291, 320pp.
Publication Date: May 25, 2018
About the Author
Efram Sera-Shriar is lecturer in modern history at Leeds Trinity University, UK. He has published extensively on the history of the human sciences, including his book The Making of British Anthropology, 1813–1871.
or
Not Currently Available for Direct Purchase