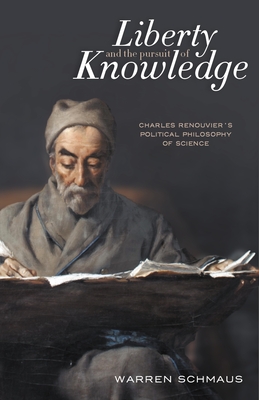 Liberty and the Pursuit of Knowledge
Charles Renouvier's Political Philosophy of Science
Hardcover

* Individual store prices may vary.
Description
French philosopher Charles Renouvier played an influential role in reviving philosophy in France after it was proscribed during the Second Empire. Drawn to the ideals of the French Revolution, Renouvier came to recognize that the free will and civil liberties he supported were essential to the pursuit of science, contrary to the ideologies of positivists and socialists who would restrict liberty in the name of science. He struggled against monarchy and religious authority in the period up through 1848 and defended a liberal, secular form of political organization at a critical turning point in French history, the beginning of the Third Republic. As Warren Schmaus argues, Renouvier's work provides an example of one way in which philosophy of science can succeed in bringing about change in political life—by critiquing political ideologies that falsely claim absolute certainty on religious, scientific, or any other grounds. Liberty and the Pursuit of Knowledge explores the understudied relationship between Renouvier's philosophy of science and his political philosophy, shedding new light on the significance of his thought for the history of philosophy.
 
Praise For Liberty and the Pursuit of Knowledge: Charles Renouvier's Political Philosophy of Science…
"By reviving Charles Renouvier's philosophy of science, Warren Schmaus contributes to the growing literature on political philosophy of science, given that Renouvier argues that science rests on a social contract based on conventions. Compellingly written and thoroughly researched, this book adds essential components to the history of the philosophy of science." —David J. Stump, University of San Francisco


 

"Renouvier certainly deserves more consideration than he has received to date. As Schmaus shows quite convincingly, Renouvier's philosophy is a crucial step between Comte's positivism and Poincaré's conventionalism. The way Renouvier grounds his epistemology on a liberal social theory will prove useful for anyone who wishes to give sense to the idea of a social philosophy of science." —Michel Bourdeau, Institut d'histoire et de philosophie des sciences et des techniques, Paris
 

"...[A]n important introduction to Renouvier's thought....Written in clear and accessible prose, this brief work successfully introduces Renouvier's political philosophy of science and other dimensions of his thought. A solid addition to the literature on 19th-century French intellectual history." —A.D. Schrift, Grinnell College

"...[T]he book does an excellent job of introducing Renouvier to a reader not fully immersed in nineteenth-century French culture and thought....well researched and thoroughly written." —Howard Sankey, University of Melbourne

"I am very glad that this book exists. I hope it will be widely read. It does an excellent job of focusing in on one aspect of Renouvier's philosophy and shows that it should be taken very seriously." —Jeremy Dunham, Notre Dame Philosophical Reviews 

"The book provides detailed scholarly analysis of the ideas of Renouvier which will be of interest to philosophers of science, especially those engaged with the history of the subject." —Metascience
 
University of Pittsburgh Press, 9780822945352, 208pp.
Publication Date: October 9, 2018
About the Author
Warren Schmaus is professor of philosophy at the Illinois Institute of Technology in Chicago. He conducts research on the history and philosophy of science in nineteenth and twentieth century France, and is one of the co-editors of Love, Order, & Progress: The Science, Philosophy, & Politics of Auguste Comte.
 
or
Not Currently Available for Direct Purchase