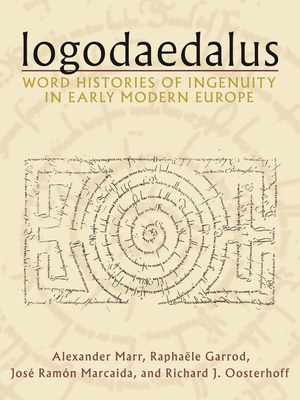 Logodaedalus
Word Histories of Ingenuity in Early Modern Europe
Hardcover

* Individual store prices may vary.
Description
Before Romantic genius, there was ingenuity. Early modern ingenuity defined every person—not just exceptional individuals—as having their own attributes and talents, stemming from an "inborn nature" that included many qualities, not just intelligence. Through ingenuity and its family of related terms, early moderns sought to understand and appreciate differences between peoples, places, and things in an attempt to classify their ingenuities and assign professions that were best suited to one's abilities. Logodaedalus, a prehistory of genius, explores the various ways this language of ingenuity was defined, used, and manipulated between 1470 and 1750. By analyzing printed dictionaries and other lexical works across a range of languages—Latin, Italian, Spanish, French, English, German, and Dutch—the authors reveal the ways in which significant words produced meaning in history and found expression in natural philosophy, medicine, natural history, mathematics, mechanics, poetics, and artistic theory.
 
Praise For Logodaedalus: Word Histories of Ingenuity in Early Modern Europe…
"The scope and detail of this fascinating book mean that anyone who reads it will have much to learn. Its polyglot and lexicographical approach releases the study of early modern ingenuity from the corrals of individual national languages, and suggests both new ways of understanding the prehistory of 'genius' and of writing cultural history through scrupulous attention to the histories of words." 
—Kathryn Murphy, Oriel College, University of Oxford
"This book is a model of what scholarship can achieve when it investigates the histories of words for what they reveal of the cultural processes of making and meaning that shaped them and were shaped by them. The authors of
Logodaedalus
—cunning wordsmiths in their own right—have produced a mind-sharpening exercise in comparative historical lexicography that brilliantly exceeds the sum of its parts." 
—Richard Scholar, author of The Je-Ne-Sais-Quoi in Early Modern Europe
"The careful discussions of dictionaries and the like within diverse linguistic contexts in early modern Europe make this book an important contribution to the burgeoning field of the history of information, as well as to the history of ingenuity itself." —Isis
"Intertwining the literature, debates, and histories of a spread of European languages is a considerable asset to modern transnational scholarship, in the process re-opening our eyes to how such a crucial concept as genius is its own site of invention. I heartily recommend this book to anyone interested in models of intellectual exchange in the early modern period, lexicographical history, and pre-Romantic notions of ingenuity."
—
Renaissance Studies
"
Logodaedalus
is a book no student of early modern cultural history will have an excuse to miss . . . it succeeds in guiding us confidently through an incredibly broad and intricate panorama of early modern thought." —
Renaissance Quarterly
"It is a tour de force in comparative historical lexicography that lays bare the full extent of ingenuity's linguistic territory and the complexity of the dynamic vectors traversing it." 
—Centaurus
University of Pittsburgh Press, 9780822945413, 352pp.
Publication Date: January 15, 2019
About the Author
Alexander Marr is Reader in the History of Early Modern Art at the University of Cambridge and a Fellow of Trinity Hall. 

Raphaële Garrod is associate professor in early modern French at the University of Oxford and a fellow of Magdalen College. She is the author of Cosmographical Novelties: Dialectic and Discovery in French Renaissance Prose.
 
José Ramón Marcaida is Lecturer in Art History at the University of St Andrews. He is the author of Arte y ciencia en el Barroco español. Historia natural, coleccionismo y cultura visual.
 
Richard J. Oosterhoff is Lecturer in Early Modern History at the University of Edinburgh. His first book is Making Mathematical Culture: University and Print in the Circle of Lefèvre d'Étaples.
 
or
Not Currently Available for Direct Purchase