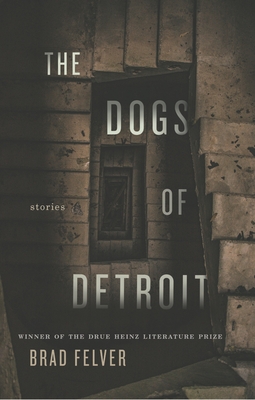 The Dogs of Detroit (Hardcover)
Stories (Pitt Drue Heinz Lit Prize)
University of Pittsburgh Press, 9780822945420, 200pp.
Publication Date: September 4, 2018
* Individual store prices may vary.
Description
Winner of the 2018 Drue Heinz Literature Prize for short fiction
A Library Journal Best Book of 2018

"Felver can be inventive with tone, diction and perspective--and heartbreakingly solemn when he wants to be"---The New York Times Book Review
The 14 stories of The Dogs of Detroiteach focus on grief and its many strange permutations. This grief alternately devolves into violence, silence, solitude, and utter isolation. In some cases, grief drives the stories as a strong, reactionary force, and yet in other stories, that grief evolves quietly over long stretches of time. Many of the stories also use grief as a prism to explore the beguiling bonds within families. The stories span a variety of geographies, both urban and rural, often considering collisions between the two.
 
About the Author
Brad Felver is a fiction writer, essayist, and teacher of writing. His honors include the O. Henry Award, a Pushcart Prize special mention, and the Zone 3 Fiction Prize. His fiction and essays have appeared widely in magazines such as One Story, New England Review, Hunger Mountain, and Colorado Review. Currently he serves as Lecturer and Associate Chair of the English Department at Bowling Green State University. He lives with his wife and kids in northern Ohio.
 
Praise For The Dogs of Detroit: Stories (Pitt Drue Heinz Lit Prize)…
"Felver's writing is sharp and insightful. His stories evoke the style and themes of writers ranging from Richard Russo to Rick Bass to Andre Dubus III and, in the particularly brutal surrealist title story, "The Dogs of Detroit," Cormac McCarthy. A substantial debut by a promising and confident new writer. "
--Kirkus
"[Felver] delivers what good fiction can: amplified truth — in this case, vividly imagined and rendered worst-case scenarios that reflect our current world in a very dark mirror."
-
Washington Independent Review of Books
"Felver lays his words down in these stories in such a precise way that it's difficult, if not impossible, to pull yourself away from a story once you've started." 
-Pittsburgh Post-Gazette
"It's in this boundless imagination and versatility that Clark earns a place among the pantheon of such emerging black poets as Eve Ewing, Nicole Sealy, and Airea D. Matthews."
-Booklist
Such commitment and bravery on the page are vital to this moment in our region's history, when the calls for a deep reckoning with out troubled legacy have met a dangerous level of entrenchment. With I Can't Talk About the Trees Without the Blood, Clark emerges as a necessary voice from the contemporary South.
-Chapter 16
"In this accomplished debut, Felver delivers a powerful, haunting sense of life's hard contours in clear-eyed language that never stoops to gratuitous violence or self-­conscious drama. "We were mean kids. We knew it and celebrated it," says one story, while another effectively encompasses a couple's dating to post-divorce relationship in under 25 pages." 
-Library Journal
"Felver has created a dark mirror for readers to gaze into."
-New York Journal of Books