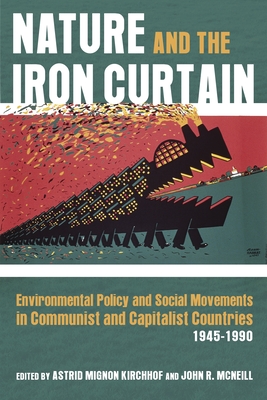 Nature and the Iron Curtain
Environmental Policy and Social Movements in Communist and Capitalist Countries, 1945–1990
Hardcover

* Individual store prices may vary.
Description
In Nature and the Iron Curtain, the authors contrast communist and capitalist countries with respect to their environmental politics in the context of the Cold War. Its chapters draw from archives across Europe and the U.S. to present new perspectives on the origins and evolution of modern environmentalism on both sides of the Iron Curtain. The book explores similarities and differences among several nations with different economies and political systems, and highlights connections between environmental movements in Eastern and Western Europe.
Praise For Nature and the Iron Curtain: Environmental Policy and Social Movements in Communist and Capitalist Countries, 1945–1990…
"At the edge of yet another apocalypse, in the midst of wars, political turbulence, and ecological crisis, Astrid Mignon Kirchhof and J.R. McNeill bring us back to another time of great anxiety for the future of the planet. Through a compelling exploration of the two sides of the Iron Curtain, with a unique richness of first-hand research, Kirchhof and McNeill show the divergent and convergent paths of environmentalism and its intertwinement with national stories and global trends. The result is a unique history book which offers original insights into the Cold War but, hopefully, it will also tell us something about our (possible) futures." —Marco Armiero, Director of the Environmental Humanities Laboratory, KTH Royal Institute of Technology, Stockholm
 
"Historians have tended to replicate the Cold War divide in their writings. Nature and the Iron Curtaininnovatively overcomes such limitations by comparing the experience of environmentalism and environmental policy in both East and West. The book makes visible some surprising similarities and connections across the systems divide." —Jan-Henrik Meyer, University of Copenhagen
 
"This breakthrough collection strikingly revises our understanding of how environmental science and policy evolved under free-market and managed economies during the Cold War.  It especially highlights the surprisingly varied interactions among environmental planners East and West across the porous Iron Curtain, even before the political thaw of the 1980s." —Richard Tucker, University of Michigan  
University of Pittsburgh Press, 9780822945451, 216pp.
Publication Date: May 28, 2019
About the Author
Astrid Mignon Kirchhof is a research associate and lecturer at Humboldt University, Berlin and a scholar in residence at the Deutsches Museum, Munich.

J.R. McNeill is professor of history at Georgetown University and author of Something New under the Sun: An Environmental History of the 20th-century World.