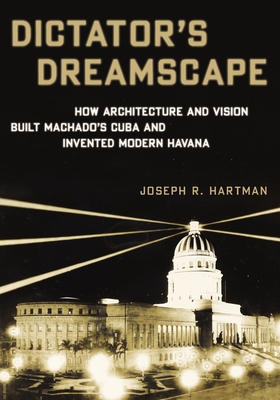 Dictator's Dreamscape
How Architecture and Vision Built Machado's Cuba and Invented Modern Havana
Hardcover

* Individual store prices may vary.
Description
Joseph Hartman focuses on the public works campaign of Cuban president, and later dictator, Gerardo Machado. Political histories often condemn Machado as a US-puppet dictator, overthrown in a labor revolt and popular revolution in 1933. Architectural histories tend to catalogue his regime's public works as derivatives of US and European models. Dictator's Dreamscape reassesses the regime's public works program as a highly nuanced visual project embedded in centuries-old representations of Cuba alongside wider debates on the nature of art and architecture in general, especially in regards to globalization and the spread of US-style consumerism. The cultural production overseen by Machado gives a fresh and greatly broadened perspective on his regime's accomplishments, failures, and crimes. The book addresses the regime's architectural program as a visual and architectonic response to debates over Cuban national identity, US imperialism, and Machado's own cult of personality.
Praise For Dictator's Dreamscape: How Architecture and Vision Built Machado's Cuba and Invented Modern Havana…
"Dreams of a future Cuba accompanied the realities of the nation throughout the twentieth century—Dictator's Dreamscape reveals the ways in which dreams and realities collided. Its acute interpretations of public works carried out by the Machado regime produce a new and compelling understanding of complicity and resistance in the relation between politics and visual culture." —Timothy Hyde, Massachusetts Institute of Technology 
 

"Engagingly written and theoretically astute, Joseph Hartman's Dictator's Dreamscape, offers a roving critical eye over Machado's Havana, taking us from El Capitolio to Carretera Central to Presidio Modelo and back again. Hartman skillfully meshes analyses of the brick and mortar city with its more fleeting and malleable look and feel, paying careful attention to the ways architecture circulates in media and mobilizes ideas and bodies. He presents a complex cultural landscape of illusion and disillusion, never losing sight of the dictatorship's violence and the legacy of colonialism and imperialism on the island." —George Flaherty, University of Texas at Austin
 

"Dictator's Dreamscape will serve as a touchstone work to understand how cults of personality meld seamlessly with regimes of power and public edification. . . . Architectural historians, semioticians, planners, cultural geographers, and curious travelers will turn to these pages for years to come." —E.I.A.L.
 
University of Pittsburgh Press, 9780822945468, 316pp.
Publication Date: April 30, 2019
About the Author
Joseph R. Hartman is an Assistant Professor of Art History/Latinx and Latin American Studies at the University of Missouri-Kansas City. Hartman has lectured and published widely on modern and contemporary Latin American art and architecture, focusing especially on the intersections of art, ecology, and cultural politics.
 
or
Not Currently Available for Direct Purchase