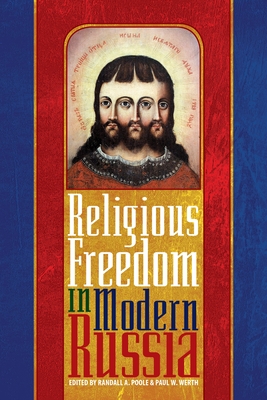 Religious Freedom in Modern Russia (Russian and East European Studies) (Hardcover)
University of Pittsburgh Press, 9780822945499, 312pp.
Publication Date: November 13, 2018
* Individual store prices may vary.
Description
Despite Russia's religiously diverse population and the strong connection between the Russian state and the Orthodox Church, the problem of religious freedom has been a driving force in the country's history. This volume gathers leading scholars to provide an extensive exploration of the evolution, experience, and contested meanings of religious freedom in Russia from the early modern period to the present, with a particular focus on the nineteenth century. Addressing different spiritual traditions, clerics and revolutionaries, ideas and lived experience, Religious Freedom in Modern Russia explores the various meanings that religious freedom, toleration, and freedom of conscience had in Russia among nonstate actors.
 
About the Author
Randall A. Poole is professor of history at the College of St. Scholastica in Duluth, Minnesota, and a fellow of the Center for the Study of Law and Religion at Emory University in Atlanta, Georgia.

Paul W. Werth is professor of history at the University of Nevada, Las Vegas.
 
Praise For Religious Freedom in Modern Russia (Russian and East European Studies)…
"This stimulating collection of essays is a major contribution to the study of religious policy in modern Russia. It provides a valuable and comprehensive picture of the theory and praxis of religious policy, as a multi-confessional empire sought to reconcile its traditional ties to the Orthodox Church with the expectations of the non-Orthodox (roughly a third of the Empire in 1897)."
—Gregory Freeze, Brandeis University
 
"Russia tends to be associated with limits on religion rather than with its freedom. This book offers a richer and more nuanced narrative. In fascinating and eloquent detail, leading authorities trace little-known traditions of Russian religious freedom—including toleration and freedom of conscience— evolving and sometimes thriving in difficult contexts, from early modernity to today's global spiritual marketplace."
—Nadieszda Kizenko, SUNY Albany