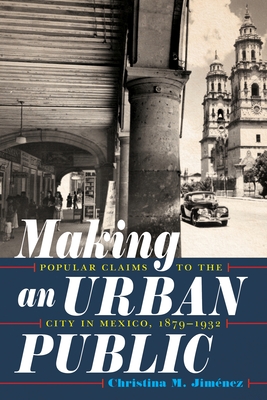 Making an Urban Public
Popular Claims to the City in Mexico, 1879-1932
Hardcover

* Individual store prices may vary.
Description
Written as a social history of urbanization and popular politics, this book reinserts "the public" and "the city" into current debates about citizenship, urban development, state regulation, and modernity in the turn of the century Mexico. Rooted in thousands of pages of written correspondence between city residents and local authorities, mostly with the city council of Morelia, the rhetoric and arguments of resident and city council dialogues often highlighted a person's or group's contributions to the public good, effectively positioning petitioners as deserving and contributing members of the urban public. Making an Urban Publictells the story of how Morelia's residents—particular those from popular groups and poor circumstances—claimed (and often gained) Making basic rights to the city, including the right to both participate in and benefit from the city's public spaces; its consumer and popular cultures; its modernized infrastructure and services; its rhetorical promises around good government and effective policing; its dense networks of community; and its countless opportunities for negotiating to forward one's agenda, and its urban promise for a better life.
 
Praise For Making an Urban Public: Popular Claims to the City in Mexico, 1879-1932…
"Masterful appropriately describes Christina Jiménez's historical analysis of Morelia from 1879 to 1932. Without resort to methodological jargon or theoretical claims, the author writes judicially about the creation of a Liberal moral economy that included the right to petition and receive an answer and investigates the meaning (in different words) of the urban patria chica with its own imagined community." —William H. Beezley, University of Arizona

"Making an Urban Public presents a striking and original interpretation of Mexican urban history. Christina Jiménez challenges traditional narratives that foreground resistance and disempowerment. She provides a sweeping new vision of a contentious political sphere in which city dwellers' increasingly pointed demands for urban services helped them to find a political voice in turn-of-the century Mexico." —Chris Boyer, University of Illinois at Chicago
 

"Jimenez's insightful approach is enhanced by her superb writing style." —John Mason Hart, The University of Houston
 

"Making an Urban Public brings attention to the ways that ordinary people experienced modernization and attempted to shape the organization of urban space. . . . She shows that nonelite citizens of Morelia, despite attempts from above to exclude them, enthusiastically participated in urban political culture and creatively deployed various rhetorical strategies to pursue their right to the city." —New Books in Latin American Studies
 
University of Pittsburgh Press, 9780822945505, 368pp.
Publication Date: May 14, 2019
About the Author
Christina M. Jiménez is a professor of history and department chair at the University of Colorado, Colorado Springs. Her research and teaching interests include comparative urban history, politics of public spaces, and citizenship. She is also co-editor of the Matrix Reader: Examining the Dynamics of Oppression and Privilege (Mc-Graw Hill, 2008).
or
Not Currently Available for Direct Purchase