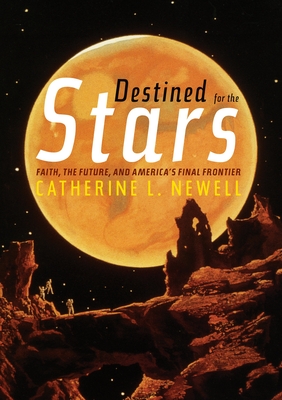 Destined for the Stars
Faith, the Future, and America's Final Frontier
Hardcover

* Individual store prices may vary.
Description
 Where did humanity get the idea that outer space is a frontier waiting to be explored? Destined for the Stars unravels the popularization of the science of space exploration in America between 1944 and 1955, arguing that the success of the US space program was due not to technological or economic superiority, but was sustained by a culture that had long believed it was called by God to settle new frontiers and prepare for the inevitable end of time and God's final judgment. Religious forces, Newell finds, were in no small way responsible for the crescendo of support for and interest in space exploration in the early 1950s, well before Project Mercury—the United States' first human spaceflight program—began in 1959.
 
In this remarkable history, Newell explores the connection between the art of Chesley Bonestell—the father of modern space art whose paintings drew inspiration from depictions of the American West—and the popularity of that art in Cold War America; Bonestell's working partnership with science writer and rocket expert Willy Ley; and Ley and Bonestell's relationship with Wernher von Braun, father of both the V-2 missile and the Saturn V rocket, whose millennial conviction that God wanted humankind to leave Earth and explore other planets animated his life's work. Together, they inspired a technological and scientific faith that  awoke a deep-seated belief in a sense of divine destiny to reach the heavens. The origins of their quest, Newell concludes, had less to do with the Cold War strife commonly associated with the space race and everything to do with the religious culture that contributed to the invention of space as the final frontier.
Praise For Destined for the Stars: Faith, the Future, and America's Final Frontier…
"Newell exposes and explains the origins of the language of 'divine destiny'—which imbues much of the modern talk of visiting other planets today. Newell has produced a forceful, original view of the American quest for the 'final frontier.'" 
—Publishers Weekly 
"This is a stunning book about faith in a glorious future, nostalgia for a heroic past, and an ever-present quest to become a multiplanetary species. Catherine Newell reveals that support for human space exploration is often about a 'higher purpose'; it inspires faith, worship, reverence, alternative futures, and a quest for secular immortality. A fascinating contribution to the history of spaceflight." —
Roger Launius, former chief historian of NASA
"
Destined for the Stars
is well conceived, splendidly narrated, and cleverly argued. It makes a genuine contribution to both the history of science and technology and American religious history, with rare potential to change one of the shibboleths of American popular and scholarly history—that America embarked on space exploration to beat the Soviet Union to the moon."
—James Hudnut-Beumler, Vanderbilt University
"In her convincing debut, today. Newell has produced a forceful, original view of the American quest for the 'final frontier.'" 
—Publishers Weekly 
"Catherine Newell's book is full of lively writing and refreshing analysis. Destined for the Stars will likely delight fans of popular culture in the early space age."
—
Journal for the History of Astronomy
"The true value of this book is . . . in its ability to synthesize a vast amount of information while adding fascinating details about Bonestell and von Braun to establish a kind of hybrid lineage of thinking about space, rooted in science, religion, and exceptionalism."
—Isis
University of Pittsburgh Press, 9780822945567, 320pp.
Publication Date: May 28, 2019
About the Author
Catherine L. Newell is assistant professor of religion and science at the University of Miami.
 
or
Not Currently Available for Direct Purchase