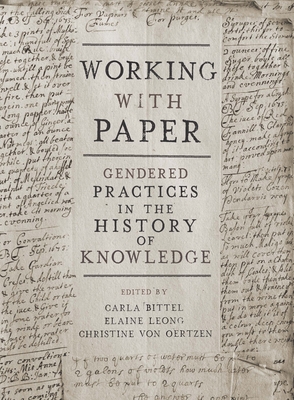 Working with Paper
Gendered Practices in the History of Knowledge
Hardcover

* Individual store prices may vary.
Description
Working with Paper builds on a growing interest in the materials of science by exploring the gendered uses and meanings of paper tools and technologies, considering how notions of gender impacted paper practices and in turn how paper may have structured knowledge about gender. Through a series of dynamic investigations covering Europe and North America and spanning the early modern period to the twentieth century, this volume breaks new ground by examining material histories of paper and the gendered worlds that made them. Contributors explore diverse uses of paper—from healing to phrenological analysis to model making to data processing—which often occurred in highly gendered, yet seemingly divergent spaces, such as laboratories and kitchens, court rooms and boutiques, ladies' chambers and artisanal workshops, foundling houses and colonial hospitals, and college gymnasiums and state office buildings. Together, they reveal how notions of masculinity and femininity became embedded in and expressed through the materials of daily life. Working with Paper uncovers the intricate negotiations of power and difference underlying epistemic practices, forging a material history of knowledge in which quotidian and scholarly practices are intimately linked.
 
Praise For Working with Paper: Gendered Practices in the History of Knowledge…
"Working with Papermakes a compelling case for the ways in which women were part of every facet of the expanding influence of paper. Exciting and timely, this volume reveals traditionally overlooked dimensions of paper's capacity to identify, record, share, distribute, expand, and participate in knowledge production, while drawing attention to important relationships among gender, women's work, and print culture." —Sally Gregory Kohlstedt, University of Minnesota
 
"This is an incredibly thoughtful collection of essays. Each presents its material and insights clearly, and several shed light on practices and people who should be central to the ways that historians think about labor, gender, knowledge, and the mediating role that paper played in bringing these spheres together." 
—Metascience
University of Pittsburgh Press, 9780822945598, 376pp.
Publication Date: June 25, 2019
About the Author
Carla Bittel is associate professor of history at Loyola Marymount University in Los Angeles.

Elaine Leong is lecturer in history at University College London.

Christine von Oertzen is senior research scholar in Department II at the Max Planck Institute for the History of Science in Berlin.