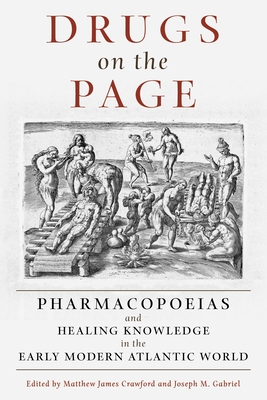 Drugs on the Page (Hardcover)
Pharmacopoeias and Healing Knowledge in the Early Modern Atlantic World
University of Pittsburgh Press, 9780822945628
Publication Date: May 14, 2019
* Individual store prices may vary.
Description
 In the early modern Atlantic World, pharmacopoeias—official lists of medicaments and medicinal preparations published by municipal, national, or imperial governments—organized the world of healing goods, giving rise to new and valuable medical commodities such as cinchona bark, guaiacum, and ipecac. Pharmacopoeias and related texts, developed by governments and official medical bodies as a means to standardize therapeutic practice, were particularly important to scientific and colonial enterprises. They served, in part, as tools for making sense of encounters with a diversity of peoples, places, and things provoked by the commercial and colonial expansion of early modern Europe.

           Drugs on the Page explores practices of recording, organizing, and transmitting information about medicinal substances by artisans, colonial officials, indigenous peoples, and others who, unlike European pharmacists and physicians, rarely had a recognized role in the production of official texts and medicines. Drawing on examples across various national and imperial contexts, contributors to this volume offer new and valuable insights into the entangled histories of knowledge resulting from interactions and negotiations between Europeans, Africans, and Native Americans from 1500 to 1850.
 
About the Author
Matthew James Crawford is associate professor in the Department of History at Kent State University and author of The Andean Wonder Drug: Cinchona Bark and Imperial Science in the Spanish Atlantic, 1630–1800.

Joseph M. Gabriel is associate professor of the history of medicine at Florida State University, where he holds joint appointments in the Department of Behavioral Sciences and Social Medicine and the Department of History.
 
Praise For Drugs on the Page: Pharmacopoeias and Healing Knowledge in the Early Modern Atlantic World…
"Drugs on the Page offers a comprehensive, comparative analysis of how pharmacopoeias, and lists of medical knowledge, developed in the early modern world, and deftly argues for their central importance in the business of healing. This volume is a major work in the history of medicine, particularly in the history of pharmaceutical drugs, and will be the definitive volume on pharmacopoeias for years to come."
—Dániel Margócsy, University of Cambridge
 
"This volume is a much-needed foray into the topic of cross-cultural pharmaceutical knowledge. Its broad view of the pharmacopoeia, which includes just about any form of systematic writing about herbs, works beautifully in drawing connections between different geographical contexts and multivalent pharmaceutical traditions, especially in the context of expanding European empires. An exciting and thought-provoking collection."  
—Alisha Rankin, author of Panaceia's Daughters: Noblewomen as Healers in Early Modern Germany
 
"Drugs on the Page is a probing, well-crafted volume. It considers early modern Atlantic pharmacopeias as global collections of objects and past technologies and as workshops of translation embodying medical hybrid taxonomies. Pharmacopeias also document the relationship between individual entrepreneurship and the regulatory state, bio-imperial agendas and countercultural resistance, and print and manuscript cultures. This is a fascinating book."
—Jorge Cañizares-Esguerra, University of Texas-Austin
 
"Drugs on the Page
establishes a definitive reference about pharmacopoeias for all scholars interested in the history of early modern science, medicine, and drugs."
—
Pharmacy in History