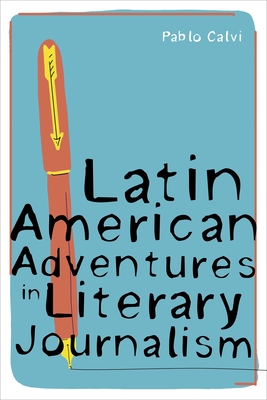 Latin American Adventures in Literary Journalism (Pitt Illuminations) (Hardcover)
University of Pittsburgh Press, 9780822945659, 272pp.
Publication Date: May 7, 2019
* Individual store prices may vary.
Description
Latin American Adventures in Literary Journalism explores the central role of narrative journalism in the formation of national identities in Latin America, and the concomitant role the genre had in the consolidation of the idea of Latin America as a supra-national entity. This work discusses the impact that the form had in the creation of an original Latin American literature during six historical moments. Beginning in the 1840s and ending in the 1970s, Calvi connects the evolution of literary journalism with the consolidation of Latin America's literary sphere, the professional practice of journalism, the development of the modern mass media, and the establishment of nation-states in the region.
 
About the Author
Pablo Calvi is an assistant professor at Stony Brook University School of Journalism.
 
Praise For Latin American Adventures in Literary Journalism (Pitt Illuminations)…
"Calvi traces a genealogy of literary journalism and its specific subgenres, as they have been developed from the nineteenth through twentieth centuries. Through extensive archival work and insightful readings of both canonical and lesser known authors, this book presents readers with a compelling analysis of literary journalism as a hybrid genre and its ongoing impact on both public and intellectual debates in a broader Latin American context."—Juan G. Ramos, College of the Holy Cross
 
"Using a few key authors, Calvi dives deeply into the journalistic history of Latin America. This book is a worthy addition for English language readers. The text fits in with the International Association for Literary Journalism Studies' mandate to study, and make more widely known, literary journalism in all of its various guises around the world."—William Reynolds, Ryerson University
 
"Calvi's running comparison of Latin American literary journalism with the various phases of journalism in the United States is a strong, well-founded aspect of this book. Equally important, perhaps even more so, is the development of an alternative literary journalism in the likes of Rodolfo Walsh and Gabriel García Márquez, and the similarities regarding truthfulness and fiction with American 'new journalists' as well as the contrasts with them. The testimonial aspect of this literary journalism is an important aspect as well as Cuba's role in consecrating it as a genre in its prestigious prizes. All in all, Latin American Adventures in Literary Journalism is a worthy read, a very well written one." ​—George Yúdice, University of Miami
"Latin American Adventures is an eye-opening work that tells us much about the importance of literary works to the growth and maturity of the Latin American press, ​particularly newspapers. Yet it does much more, opening up Latin American literary journalism as an incredibly important and valuable window to a greater understanding of Latin American media history, and even global media history. I found myself captivated by his writing—Calvi has a terrific and engaging voice—and he also constantly reminded of a wide range of other works on Latin American media history."—James Schwoch, Northwestern University
"Calvi's account of the rise of Latin American literary journalism explains press origins starting with colonial Spain's 'tight control over the printing presses of the subcontinent.'" —
Choice 
"Calvi worked for two decades as a journalist, and he shows the skills of a seasoned storyteller. He braids into the analyses his long hours of archival research without letting his readers feel them."
—
Journalism and Mass Communication Quarterly