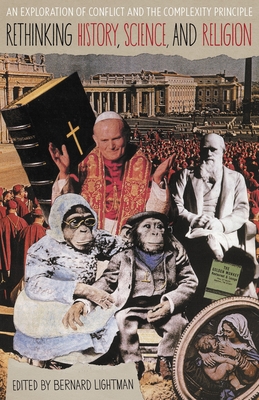 Rethinking History, Science, and Religion
An Exploration of Conflict and the Complexity Principle
Hardcover

* Individual store prices may vary.
Description
The historical interface between science and religion was depicted as an unbridgeable conflict in the last quarter of the nineteenth century. Starting in the 1970s, such a conception was too simplistic and not at all accurate when considering the totality of that relationship. This volume evaluates the utility of the "complexity principle" in past, present, and future scholarship. First put forward by historian John Brooke over twenty-five years ago, the complexity principle rejects the idea of a single thesis of conflict or harmony, or integration or separation, between science and religion. Rethinking History, Science, and Religion brings together an interdisciplinary group of scholars at the forefront of their fields to consider whether new approaches to the study of science and culture—such as recent developments in research on science and the history of publishing, the global history of science, the geographical examination of space and place, and science and media—have cast doubt on the complexity thesis, or if it remains a serviceable historiographical model.
 
Praise For Rethinking History, Science, and Religion: An Exploration of Conflict and the Complexity Principle…
"Since its genesis over two decades ago, the 'Complexity Thesis' has functioned for most historians of science and religion as a corrective to the still popular notion that the relationship between the two has been characterized by inevitable conflict.  Bernard Lightman's excellent volume collects some of the most mature reflections upon the status of the complexity principle. The first-rate essays contained herein show that the complexity principle continues to stimulate and challenge scholars of the science / religion relationship."--Monte Harrell Hampton, author of Storm of Words: Science, Religion, and Evolution in the Civil War Era
 
University of Pittsburgh Press, 9780822945741, 324pp.
Publication Date: November 5, 2019
About the Author
Bernard Lightman is professor of humanities at York University and president of the History of Science Society. Among his most recent publications are the edited collections Global Spencerism: The Communication and Appropriation of a British Evolutionist, A Companion to the History of Science, and Science Museums in Transition: Cultures of Display in Nineteenth-Century Britain and America (coedited with Carin Berkowitz). Lightman is also a general coeditor of The Correspondence of John Tyndall and editor of the book series Science and Culture in the Nineteenth Century.