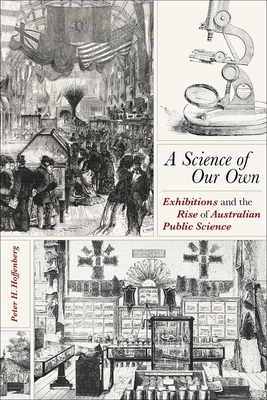 A Science of Our Own (Hardcover)
Exhibitions and the Rise of Australian Public Science (Sci & Culture in the Nineteenth Century)
University of Pittsburgh Press, 9780822945765, 206pp.
Publication Date: November 26, 2019
* Individual store prices may vary.
Description
When the Reverend Henry Carmichael opened the Sydney Mechanics' School of Arts in 1833, he introduced a bold directive: for Australia to advance on the scale of nations, it needed to develop a science of its own. Prominent scientists in the colonies of New South Wales and Victoria answered this call by participating in popular exhibitions far and near, from London's Crystal Place in 1851 to Sydney, Melbourne, Adelaide, and Brisbane during the final decades of the nineteenth century. A Science of Our Own explores the influential work of local botanists, chemists, and geologists—William B. Clarke, Joseph Bosisto, Robert Brough Smyth, and Ferdinand Mueller—who contributed to shaping a distinctive public science in Australia during the nineteenth century. It extends beyond the political underpinnings of the development of public science to consider the rich social and cultural context at its core. For the Australian colonies, as Peter H. Hoffenberg argues, these exhibitions not only offered a path to progress by promoting both the knowledge and authority of local scientists and public policies; they also ultimately redefined the relationship between science and society by representing and appealing to the growing popularity of science at home and abroad.
 
About the Author
Peter H. Hoffenberg is associate professor of history at the University of Hawai'i, Manoa. He also serves as editor and treasurer of the Pacific Circle, an international organization dedicated to the study of science and the history of science in the Pacific region.
 
Praise For A Science of Our Own: Exhibitions and the Rise of Australian Public Science (Sci & Culture in the Nineteenth Century)…
"A Science of our Own tells the story of Victorian 'science on show', and surveys the vital role of the Exhibition Movement of the 19th century in transforming science from the realm of private pastime to public mission. Science for the public, soon becomes science for the nation, and a dynamic force in British colonial and imperial history. Hoffenberg capably brings a dimly lit, long-neglected story to light, gives it sparkle, and makes it shine."
—Roy MacLeod, University of Sydney