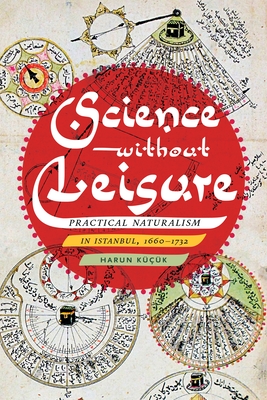 Science without Leisure
Practical Naturalism in Istanbul, 1660-1732
Hardcover

* Individual store prices may vary.
Description
Science in seventeenth- and eighteenth-century Istanbul, Harun Küçük argues, was without leisure, a phenomenon spurred by the hyperinflation a century earlier when scientific texts all but disappeared from the college curriculum and inflation reduced the wages of professors to one-tenth of what they were in the sixteenth century. It was during this tumultuous period that philosophy and theory, the more leisurely aspects of naturalism—and the pursuit of "knowledge for knowledge's sake"—vanished altogether from the city. But rather than put an end to science in Istanbul, this economic crisis was transformative, turning science into a practical matter, into something one learned through apprenticeship and provided as a service. In Science without Leisure, Küçük reveals how Ottoman science, when measured against familiar narratives of the Scientific Revolution, was remarkably far less scholastic and philosophical and far more cosmopolitan and practical. His book explains why as practical naturalists deployed natural knowledge to lucrative ends without regard for scientific theories, science in the Ottoman Empire over the long term ultimately became the domain of physicians, bureaucrats, and engineers rather than of scholars and philosophers.
 
Praise For Science without Leisure: Practical Naturalism in Istanbul, 1660-1732…
"With clear prose and brilliant theoretical insights, Harun Küçük offers a refreshingly original and persuasive account of the connected global history of science and scientists in the Ottoman imperial metropole during the early modern period. This is the most important book in the field of both Ottoman studies and the histories of early modern science, one that will truly reorient our understanding of global intellectual history and challenge our entrenched assumptions about imagined civilizational borders between the West and the Ottoman East." —Cemil Aydin, University of North Carolina at Chapel Hill
 

"Harun Küçük's Science without Leisure is eye-opening. The cosmopolitan and practical naturalism bubbling up in early modern Istanbul exemplifies science as it was commonly expressed around the globe. The variety and vigor of the city's practitioners challenges our notions of Scientific Revolution and Enlightenment. But it is a caution, too, about how Ottoman practitioners could not fully express their talents when supported by practical results alone." —Harold Cook, Brown University
 

"An erudite and engaging exploration of the scientific and academic life of Istanbul in the early modern period. . . . Küçük's engaging and insightful approach to the history of scientific production serves to open up major new fields of enquiry, while providing a range of equally useful approaches to aid further studies." —British Journal for the History of Science
 

"In a crucial intervention into how to study an era of transition for Istanbul, the great Ottoman city, Küçük's Science without Leisure develops a social history of knowledge production that reflects the practical links between science and economy." —CHOICE
 

"The topical breadth, comparative perspective, and bold arguments of Küçük's book make it an engaging and provocative read for specialists in the history of science, the early modern period, and the Ottoman Empire. Its contemporary relevance, solid historical material, and easy style also make it accessible to nonspecialists—academics and others—who will enjoy reading the book as well." —Isis
 
University of Pittsburgh Press, 9780822945802, 324pp.
Publication Date: December 31, 2019
About the Author
Harun Küçük is assistant professor of history and sociology of science at the University of Pennsylvania. His work explores the relationship between daily practices and science in Ottoman Istanbul.