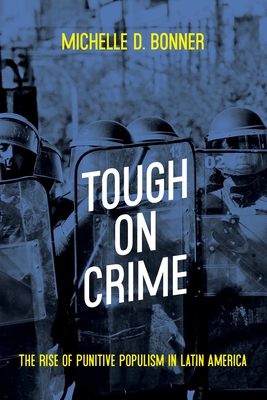 Tough on Crime (Hardcover)
The Rise of Punitive Populism in Latin America (Pitt Latin American Series)
University of Pittsburgh Press, 9780822945826, 208pp.
Publication Date: September 17, 2019
* Individual store prices may vary.
Description
Crime and insecurity are top public policy concerns in Latin America. Political leaders offer tough-on-crime solutions that include increased policing and punishments, and decreased civilian oversight. These solutions, while apparently supported by public opinion, sit in opposition to both criminological research on crime control and human rights commitments. Moreover, many political and civil society actors disagree with such rhetoric and policies. In Tough on Crime, Bonner explores why some voices and some constructions of public opinion come to dominate public debate. Drawing on a comparative analysis of Argentina and Chile, based on over 190 in-depth interviews, and engaging the Euro-American literature on punitive populism, this book argues that a neoliberal media system and the resulting everyday practices used by journalists, state, and civil actors are central to explaining the dominance of tough-on-crime discourse.
 
About the Author
Michelle D. Bonner is professor of political science at the University of Victoria. Her research examines questions of democratization and human rights through the lens of policing, media, and social movements.


 
Praise For Tough on Crime: The Rise of Punitive Populism in Latin America (Pitt Latin American Series)…
"This book is a major contribution to our understanding of the sources and significance of mass media representations of policing and criminal justice issues. Its particular focus is on the central role played by media in the global hegemony of populist diagnoses and solutions. The sophisticated theoretical analysis is based on extensive fieldwork, primarily 194 depth interviews with leading players in the media, civil society, and politics in both Chile and Argentina. The result is a rich comparative account of these societies. Combined with a wide-ranging knowledge of research in other countries this yields hugely valuable and original insights, notably the crucial role of neo-liberalism in feeding the populist trend. The detailed data trace the effects of change in the political economy down through its transformation of the structure of media organizations and the working practices of journalists. Written in a clear and engaging style, and backed by rigorous scholarship, the book is of importance not only to criminology and criminal justice, but for the lucid light it sheds on a central issue of our era, the rise of populism."
—Robert Reiner, London School of Economics