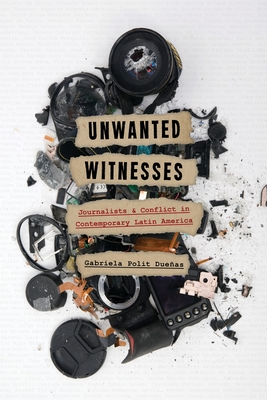 Unwanted Witnesses
Journalists and Conflict in Contemporary Latin America (Pitt Illuminations)
Hardcover

* Individual store prices may vary.
Description
Gabriela Polit Dueñas analyzes the work of five narrative journalists from three countries. Marcela Turati, Daniela Rea, and Sandra Rodriguez from Mexico, Patricia Nieto from Colombia, and María Eugenia Ludueña from Argentina produce compelling literary works, but also work under dangerous, intense conditions. What drives and shapes their stories are their affective responses to the events and people they cover. The book offers an insightful analysis of the emotional challenges, the stress and traumatic conditions journalists face when reporting on the region's most pressing problems. It combines ethnographic observations of the journalists' work, textual analysis, and a theoretical reflection on the ethical dilemmas journalists confront on a daily basis. Unwanted Witnesses puts forward a necessary discussion about the place contemporary journalists occupy in the field of production, and how the risks they run speak directly about the limits of our democracies.
 
Praise For Unwanted Witnesses: Journalists and Conflict in Contemporary Latin America (Pitt Illuminations)…
"Polit-Dueñas's path breaking study gives us a unique insight into the testimonies, fieldwork practices and subjectivity of women journalists who have dared to oppose silence and complicity, crime and impunity, social amnesia and indifference, and who are necessarily performing an essential communicative and political task in Latin America today."
—Ignacio Corona, Ohio State University

"Unwanted Witnesses is a brilliantly conceived and executed hybrid of journalism, literary criticism, and ethnography that brings us clear-eyed dispatches from the murky frontiers of both journalism and fiction.  Written with the urgency and emotion of front-line reportage, Polit's book mobilizes cutting-edge theory and scholarship to give its readers an almost-visceral understanding of the realities—and all too frequently, the perils—of being a practicing journalist in twenty-first century Latin America."—Aníbal González-Pérez, Yale University
 
 

"Gabriela Polit Dueñas's Unwanted Witnesses: Journalists and Conflict in Contemporary Latin America shows the high prices journalists pay and the deadly risks they encounter in doing their work in Latin America." —Public Books
 

"Elle apporte une très riche contribution non seulement à la sociologie du journalisme mais aussi aux études littéraires, et dialogue avec de nombreuses références issues de l'ethnographie, de la philosophie et de la science politique." —Critique internationale
 
University of Pittsburgh Press, 9780822945833, 176pp.
Publication Date: September 17, 2019
About the Author
Gabriela Polit Dueñas is associate professor of contemporary Latin American culture and literature in the Department Spanish and Portuguese at the University of Texas, Austin.


 
or
Not Currently Available for Direct Purchase