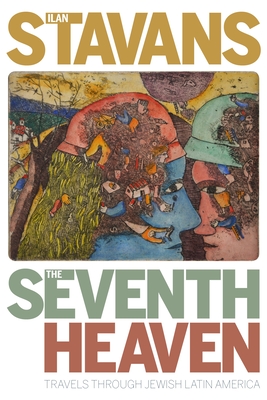 The Seventh Heaven
Travels Through Jewish Latin America (Pitt Latin American Series)
Hardcover

* Individual store prices may vary.
Other Editions of This Title:
Paperback (2/4/2020)
Description
Jewish Book Council Natan Notable Book 2020

Internationally renowned essayist and cultural commentator Ilan Stavans spent five years traveling from across a dozen countries in Latin America, in search of what defines the Jewish communities in the region, whose roots date back to Christopher Columbus's arrival. In the tradition of V.S. Naipaul's explorations of India, the Caribbean, and the Arab World, he came back with an extraordinarily vivid travelogue. Stavans talks to families of the desaparecidos in Buenos Aires, to "Indian Jews," and to people affiliated with neo-Nazi groups in Patagonia. He also visits Spain to understand the long-term effects of the Inquisition, the American Southwest habitat of "secret Jews," and Israel, where immigrants from Latin America have reshaped the Jewish state. Along the way, he looks for the proverbial "seventh heaven," which, according to the Talmud, out of proximity with the divine, the meaning of life in general, and Jewish life in particular, becomes clearer. The Seventh Heaven is a masterful work in Stavans's ongoing quest to find a convergence between the personal and the historical.
 
Praise For The Seventh Heaven: Travels Through Jewish Latin America (Pitt Latin American Series)…
"Truly fine travel writing looks both out and in, and Ilan Stavans' The Seventh Heaven is a book of that rare sort.  From Jewish stand-up comedy in Buenos Aires to the Montevideo grave of the mysterious Mr. Chouchani, we follow Stavans' journey through Jewish Latin America with fascination and delight. But the journey is also a restless personal search for home, for wisdom, for imaginary happiness, and Stavans renders this journey both idiosyncratically his own and, at the same time, about us all."
—Martha C. Nussbaum, The University of Chicago

"The necessary talent of good travel writers is the ability to find and talk with the most interesting people in each place they visit. Ilan Stavans has that talent in spades. His book introduces us to a wonderfully varied group of smart and opinionated Jews (and a few non-Jews) across Latin America. It is a pleasure to read." —Michael Walzer, Institute for Advanced Study, Princeton, NJ
 

"How marvelous to witness the legacy of the diaspora through the eyes of Ilan Stavans. In The Seventh Heaven, we travel, wonder, and are gloriously illumined by the great heart and mind of a brilliant writer. This fascinating memoir is a cause for celebration for all who yearn for home." —Min Jin Lee, author of Free Food for Millionaires and Pachinko, a finalist for the National Book Award
 

"Ilan Stavans brings an irrepressible intellectual curiosity and enthusiasm to all his projects. In The Seventh Heaven, he has written a fascinating account of his travels through Jewish Latin America in a quest for answers about many things, not least his own identity and place in the world. Stavans is a Mexican Jew who now lives in the United States. One part voyage of discovery, one part requiem, and one part redemption song, The Seventh Heaven is an unforgettable journey." —Jon Lee Anderson, author of Che Guevara: A Revolutionary Life
 

"Stavans' book is an example of the Latin American essay tradition at its best. This is a hybrid genre that mixes scholarly work, personal notes and anecdotes, with commentary and insights on Jewish experiences in Latin American, as well as the mosaic of identity components of Latin Americans of Jewish origins. Beautifully written, the text plays with words and languages, creating a marvelous tapestry." —Raanan Rein, Tel Aviv University

Stavans writes with humor and erudition . . . An unusual and eye-opening approach to travel writing. —Diego Báez, Booklist
 

"Ilan Stavans compares his lengthy trip to Latin America a few years ago to an ethnographic expedition undertaken by the fabled folklorist S. Ansky to Eastern Europe in the second decade of the last century. In his Yiddish-language book, The Enemy At His Pleasure, Ansky offered an acute analysis of Jewish life in Poland, Belarus, Ukraine and Moldova and layered it with pungent personal observations. Stavans, in The Seventh Heaven, emulates Ansky in many respects. A Latin American Jew of Polish descent who immigrated to the United States in the mid-1980s, he spent four years on the road, plumbing the depths of countries like Argentina, Mexico, and Cuba." —Times of Israel
 
University of Pittsburgh Press, 9780822945857, 296pp.
Publication Date: October 15, 2019
About the Author
Ilan Stavans is Lewis-Sebring Professor of Humanities, Latin American and Latino Culture at Amherst College.
or
Not Currently Available for Direct Purchase