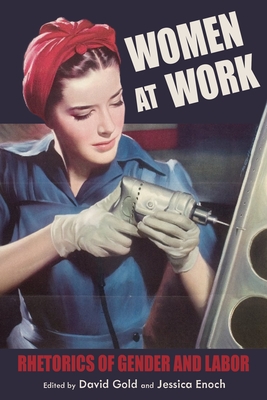 Women at Work (Hardcover)
Rhetorics of Gender and Labor (Composition, Literacy, and Culture)
University of Pittsburgh Press, 9780822945888, 280pp.
Publication Date: September 17, 2019
* Individual store prices may vary.
Description
Women at Work presents the field of rhetorical studies with fifteen chapters that center on gender, rhetoric, and work in the US in the nineteenth and twentieth centuries. Feminist scholars explore women's labor evangelism in the textile industry, the rhetorical constructions of leadership within women's trade unions, the rhetorical branding of a twentieth-century female athlete, the labor activism of an African American blues singer, and the romantic, same-sex collaborations that supported pedagogical labor. Women at Work also introduces readers to rhetorical methods and approaches possible for the study of gender and work. Contributors name and explore a specific rhetorical concern that animates their study and in so doing, readers learn about such concepts as professional proof, rhetorical failure, epideictic embodiment, rhetorics of care, and cross-racial coalition building.
 
About the Author
Jessica Enoch is professor of English at the University of Maryland. Enoch is director of academic writing and is an affiliate member of the women's studies department.
David Gold is Associate Professor of English, Education, and Women's Studies at the University of Michigan.


 
Praise For Women at Work: Rhetorics of Gender and Labor (Composition, Literacy, and Culture)…
A fascinating, rich collection.  Gold and Enoch present the best of what's been written about gender, rhetoric, and work. The editors include a broad spectrum of sites, subjects, and contributors, from emerging scholars to well-known researchers. Inspiring and smart, at times sobering or haunting, these tight, readable chapters reveal the hidden history of women at work. The volume is a must-read for scholars in rhetoric, writing studies and women's studies.--Gesa Kirsch, Bentley University
 
"Women at Work offers an expansive historical understanding of U.S. women's labor and rhetorical agency across time periods, communities, and occupations. Contributors examine how diverse women workers have negotiated complex power relations and social roles, often advocating for improvements in working conditions, representation, and recognition. This collection is a vital contribution to the scholarship on women's rhetorical agency in the workplace."
—Eileen E. Schell, Syracuse University