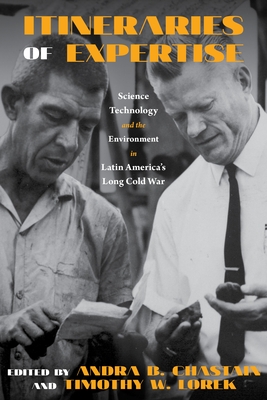 Itineraries of Expertise
Science, Technology, and the Environment in Latin America (INTERSECTIONS: Histories of Environment)
Paperback

* Individual store prices may vary.
Description
Itineraries of Expertise contends that experts and expertise played fundamental roles in the Latin American Cold War. While traditional Cold War histories of the region have examined diplomatic, intelligence, and military operations and more recent studies have probed the cultural dimensions of the conflict, the experts who constitute the focus of this volume escaped these categories. Although they often portrayed themselves as removed from politics, their work contributed to the key geopolitical agendas of the day. The paths traveled by the experts in this volume not only traversed Latin America and connected Latin America to the Global North, they also stretch traditional chronologies of the Latin American Cold War to show how local experts in the early twentieth century laid the foundation for post–World War II development projects, and how Cold War knowledge of science, technology, and the environment continues to impact our world today. These essays unite environmental history and the history of science and technology to argue for the importance of expertise in the Latin American Cold War.
Praise For Itineraries of Expertise: Science, Technology, and the Environment in Latin America (INTERSECTIONS: Histories of Environment)…
"Itineraries of Expertise is a stimulating collection on the making of expertise and the dialectic of knowledge production and application. The breadth of topics combined with state-of-the-field framing essays give it an intellectual heft that traverses multiple historiographies, from the long Cold War and science and technology studies to political ecology and environment. By following itineraries, the authors blur stubborn distinctions between foreign and domestic, finding experts in unexpected places along the way. More than the sum of its parts, this is a volume that sets an intellectual agenda."—Raymond B. Craib, Cornell University
 

"This collection of papers decenters the study of the relationship between technology, environment and power away from the US and Europe. It examines Latin American scientists, engineers, medical doctors, agronomists and other professional and lay experts who helped to define modernity in their countries, became active participants of larger transnational networks, and sometimes, challenged the imperialistic motivations of superpowers. A sound contribution that intertwines the fields of science and technology studies, Latin American history and environmental history."—Marcos Cueto, Fiocruz, Rio de Janeiro.
 

"As Chastain and Lorek's outstanding volume shows, we must move beyond the spheres of diplomacy and culture in order to understand fully the Cold War in Latin America. Drawing on science, technology and environmental studies and foregrounding the role of experts and expertise, Itineraries of Expertise shifts the focus onto dams, radios, housing, agricultural experimentation, forest trails, transport infrastructure, NASA, and cows in order to offer new and compelling perspectives on Latin America's Cold War."—Paulo Drinot, University College London
 
University of Pittsburgh Press, 9780822945963, 366pp.
Publication Date: March 17, 2020
About the Author
Andra B. Chastain is an assistant professor of history at Washington State University Vancouver, where she teaches Latin American and world history. She has a PhD in History from Yale University.

Timothy W. Lorek is program outreach coordinator in the Program in Latin American Studies at the University of Michigan and teaches courses in Latin American and environmental history. He has a PhD in History from Yale University.