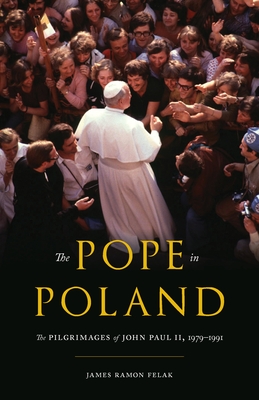 The Pope in Poland (Hardcover)
The Pilgrimages of John Paul II, 1979-1991 (Russian and East European Studies)
University of Pittsburgh Press, 9780822945987, 304pp.
Publication Date: October 20, 2020
* Individual store prices may vary.
Description
John Paul II was the first non-Italian pope in over 500 years, and the first Slavic pontiff in history. Shortly after his election to the papacy in 1978, he launched a series of visits to his native Poland, then in the midst of dramatic social changes that heralded the end of Communism. In this groundbreaking book, James Ramon Felak carefully examines the Pope's first four visits to his homeland in June of 1979, 1983, 1987, and 1991 in the late Communist and immediate post-Communist period. Careful analysis of speeches, press coverage, and documents from the Communist Party, government, and police show how the Pope and the Communist authorities engaged one another. Felak gives equal attention to John Paul's political and religious messages, highlighting how he astutely maneuvered between the rising hopes of the Polish people and the dangerous fears of a dying regime. The Pope in Poland recreates and explicates these dramatic visits that played a major role in the collapse of Communism in Poland as well as laid out a papal vision for Poland's post-Communist future.
About the Author
James Ramon Felak is Newman Center Term Professor in Catholic Christianity at the University of Washington and the author of At the Price of the Republic: Hlinka's Slovak People's Party, 1929-1938 and After Hitler, Before Stalin: Catholics, Communists, and Democrats in Slovakia, 1945-1948.
Praise For The Pope in Poland: The Pilgrimages of John Paul II, 1979-1991 (Russian and East European Studies)…
"James Felak's masterful study offers the most credible and compelling account to date of Pope John Paul II's early pilgrimages to his native Poland, momentous events that helped shape the course of recent Polish history. Felak makes an essential and enduring contribution to our understanding of the autumn of Poland's Communist regime, Catholicism's role in that regime's collapse, and the mind of a most remarkable pope."—Robert E. Alvis, Saint Meinrad Seminary and School of Theology