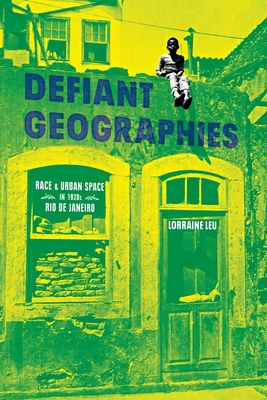 Defiant Geographies (Hardcover)
Race and Urban Space in 1920s Rio de Janeiro (Pitt Illuminations)
University of Pittsburgh Press, 9780822946007, 238pp.
Publication Date: March 31, 2020
* Individual store prices may vary.
Description
Defiant Geographies examines the destruction of a poor community in the center of Rio de Janeiro to make way for Brazil's first international mega-event. As the country celebrated the centenary of its independence, its postabolition whitening ideology took on material form in the urban development project that staged Latin America's first World's Fair. The book explores official efforts to reorganize space that equated modernization with racial progress. It also considers the ways in which black and blackened subjects mobilized their own spatial logics to introduce alternative ways of occupying the city. Leu unpacks how the spaces of the urban poor are racialized, and the impact of this process for those who do not fit the ideal models of urbanity that come to define the national project. Defiant Geographies puts the mutual production of race and space at the heart of scholarship on Brazil's urban development and understands urban reform as a monumental act of forgetting the country's racial past.
About the Author
Lorraine Leu is associate professor at the University of Texas, Austin, where she holds a joint appointment in the Lozano Long Institute for Latin American Studies (LLILAS) and the Department of Spanish and Portuguese. She is the author of Brazilian Popular Music, and coedited the anthology Latin American Cultural Studies: A Reader.
Praise For Defiant Geographies: Race and Urban Space in 1920s Rio de Janeiro (Pitt Illuminations)…
"In this carefully  researched and beautifully written analysis of a decisive moment in the history of urbanization and modernization in Brazil, Lorraine Leu demonstrates how and why the racial projects of modernity all around the world routinely entail a distinct spatial imaginary rooted in anti-blackness. Her case study shows, however, that the dominant conflation of race with space did not go unchallenged, that the aggrieved and racialized denizens of the city created defiant geographies in which they could talk back to power and take back a measure of what had been stolen from them."—George Lipsitz, author of How Racism Takes Place  
 
"Brilliantly combining insights from history, geography, and cultural studies, Leu shows us not only how race makes space, but also how space constitutes racial difference in imaginations and in practices, creating a complex dynamic of domination and defiance that she traces as a continuous thread through more than a hundred years of Rio de Janeiro's history. That she manages this convincingly and in rich detail - amassing textual, visual, and sonic images - for the dense, striated, and fractal spaces of the city is quite an achievement."—Peter Wade, University of Manchester