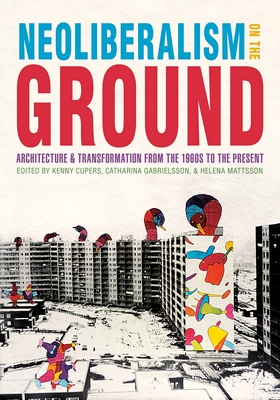 Neoliberalism on the Ground
Architecture and Transformation from the 1960s to the Present (Culture Politics & the Built Environment)
Hardcover

* Individual store prices may vary.
Description
Architecture and urbanism have contributed to one of the most sweeping transformations of our times. Over the past four decades, neoliberalism has been not only a dominant paradigm in politics but a process of bricks and mortar in everyday life. Rather than to ask what a neoliberal architecture looks like, or how architecture represents neoliberalism, this volume examines the multivalent role of architecture and urbanism in geographically variable yet interconnected processes of neoliberal transformation across scales—from China, Turkey, South Africa, Argentina, Mexico, the United States, Britain, Sweden, and Czechoslovakia. Analyzing how buildings and urban projects in different regions since the 1960s have served in the implementation of concrete policies such as privatization, fiscal reform, deregulation, state restructuring, and the expansion of free trade, contributors reveal neoliberalism as a process marked by historical contingency. Neoliberalism on the Ground fundamentally reframes accepted narratives of both neoliberalism and postmodernism by demonstrating how architecture has articulated changing relationships between state, society, and economy since the 1960s.
Praise For Neoliberalism on the Ground: Architecture and Transformation from the 1960s to the Present (Culture Politics & the Built Environment)…
"The essays in this book are wonderful—models of architectural history that are deeply engaged, well researched, and carefully written. Nearly all of the chapters are formulated around a case study . . . taking in social and political issues wider than those normally canvassed in architectural scholarship. . . . The chapters also share a certain sensibility—maybe a kind of sublime?—in the way they allusively touch on the incommensurability of conventional architectural values and the contemporary socio-economic dispensation." —Isis

"This impressive edited volume addresses the links between worldwide neoliberal policies and recent architectural trends. If neoliberalism equals the belief that market economies provide the sole key for progress and emancipation, this book discusses how this ideology impacts architectural culture and the everyday built environment, bringing together in-depth theoretical analysis with wide-ranging and intriguing case studies." —Hilde Heynen, author of Architecture and Modernity: A Critique

"The material origins and consequences of the political and economic reasonings of neoliberalism are as pervasive as they are difficult to define. This volume has successfully taken on the challenge of revealing an archive of facts and events that make visible the processes and systems that shaped cities and territories in the past half-century. Neoliberalism on the Ground will greatly expand historical and theoretical understanding and is an indispensable contribution to our comprehension of our present moment." —Timothy Hyde, Massachusetts Institute of Technology
University of Pittsburgh Press, 9780822946014, 448pp.
Publication Date: March 31, 2020
About the Author
Kenny Cupers is associate professor of history and theory of architecture and urbanism at the University of Basel, where he cofounded and leads its new division of urban studies.

Catharina Gabrielsson is associate professor in urban theory and docent in architecture at the KTH School of Architecture.

Helena Mattsson is professor in theory and history at KTH School of Architecture
or
Not Currently Available for Direct Purchase