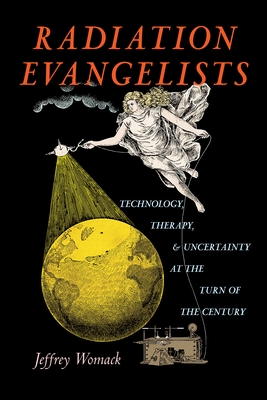 Radiation Evangelists (Hardcover)
Technology, Therapy, and Uncertainty at the Turn of the Century
University of Pittsburgh Press, 9780822946090, 228pp.
Publication Date: March 17, 2020
* Individual store prices may vary.
Description
Radiation Evangelists explores x-ray and radium therapy in the United States and Great Britain during a crucial period of its development, from 1896 to 1925. It focuses on the pioneering work of early advocates in the field, the "radiation evangelists" who, motivated by their faith in a new technology, trust in new energy sources, and hope for future breakthroughs, turned a blind eye to the dangers of radiation exposure. Although ionizing radiation effectively treated diseases like skin infections and cancers, radiation therapists—who did not need a medical education to develop or administer procedures or sell tonics containing radium—operated in a space of uncertainty about exactly how radiation worked or would affect human bodies. And yet radium, once a specialized medical treatment, would eventually become a consumer health product associated with the antibacterial properties of sunlight.
This book raises important questions about medical experimentation and the so-called "Golden Rule" of medical ethics, issues of safety and professional identity, and the temptation of a powerful therapeutic tool that also posed significant risks in its formative years. In this cautionary tale of technological medical progress, Jeffrey Womack reveals how practitioners and their patients accepted uncertainty as a condition of their therapy in an attempt to alleviate the human suffering it would ultimately cause.
 
About the Author
Jeffrey Womack earned his PhD in history from the University of Houston in 2016. He regularly collaborates with the College of Physicians of Philadelphia's Historical Medical Library and Mütter Museum. He resides and teaches in Philadelphia.
 
Praise For Radiation Evangelists: Technology, Therapy, and Uncertainty at the Turn of the Century…
"Although much has been written about the history of X-ray diagnosis, relatively little has been written about early radiation therapy. This impressive book helps to fill that gap. Drawing from a rich array of sources, Jeffrey Womack shows how early adopters navigated an uncertain world and used their experiences to argue for skepticism in the face of new technology." —Joel D. Howell, University of Michigan
 
"This careful and clever study of radiation's evangelists casts a penetrating light on everything from geopolitics to medical professionalization. Womack has found voices from the struggle for acceptance of radiation therapy both familiar and underappreciated, and put them in service to a narrative that will be of great interest to historians of science, medicine, and technology." —Matthew Lavine, author of The First Atomic Age: Scientists, Radiations and the American Public, 1845–1945