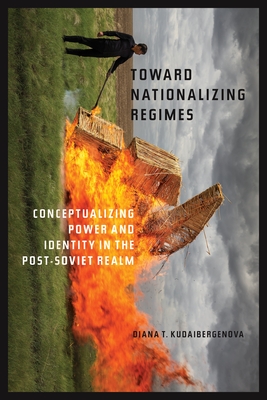 Toward Nationalizing Regimes
Conceptualizing Power and Identity in the Post-Soviet Realm (Central Eurasia in Context)
Hardcover

* Individual store prices may vary.
Description
The collapse of the Soviet Union famously opened new venues for the theories of nationalism and the study of processes and actors involved in these new nation-building processes. In this comparative study, Kudaibergenova takes the new states and nations of Eurasia that emerged in 1991, Latvia and Kazakhstan, and seeks to better understand the phenomenon of post-Soviet states tapping into nationalism to build legitimacy. What explains this difference in approaching nation-building after the collapse of the Soviet Union? What can a study of two very different trajectories of development tell us about the nature of power, state and nationalizing regimes of the 'new' states of Eurasia? Toward Nationalizing Regimes finds surprising similarities in two such apparently different countries—one "western" and democratic, the other "eastern" and dictatorial.
Praise For Toward Nationalizing Regimes: Conceptualizing Power and Identity in the Post-Soviet Realm (Central Eurasia in Context)…
"Diana Kudaibergenova offers us a powerful analysis in nation-building processes after the collapse of the Soviet Union, comparing the trajectories of Latvia and Kazakhstan. By looking at the interrelation between power and nationhood, she highlights the complex articulations between the nature of political regimes and ideological choices related to constructing the nation. A must-read for all those following the post-Soviet nationalizing regimes and their evolution over time and space."—Marlene Laruelle, George Washington University
"In a sociological and ethnographic tour-de-force Diana T. Kudaibergenova deploys contrasting case studies of a democratic but ethnically nationalizing state, Latvia, and a pluralistic authoritarian state, Kazakhstan, to dissect the different paths to nation-making in the post-Soviet space. The central irony is that the more democratic state is more coercive toward its ethnic minorities and the more authoritarian state is relatively more inclusive. To explain this paradox the author delves into the composition of post-Soviet elites and the nationalizing discourses they adopted. This work deepens our understanding of how states make nations even when the ruling peoples are nearly swamped by the indigenous minorities."—Ronald Grigor Suny, University of Michigan  
University of Pittsburgh Press, 9780822946175, 240pp.
Publication Date: June 16, 2020
About the Author
Diana T. Kudaibergenova is the postdoctoral research associate on the COMPASS project at the Centre of Development Studies, Department of Politics and International Studies at the University of Cambridge where she is leading the "Community Engagement" pillar of the project.